Entertaining at Halloween? Need some ghoulish gory ideas?
19th October 2011
... Comments
---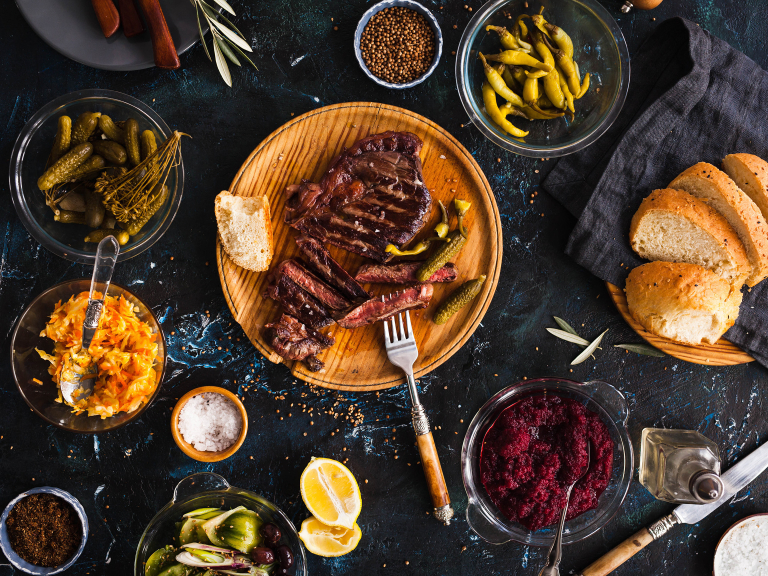 Halloween and Bonfire Night are fast approaching and both conveniently fall near a weekend so I can imagine there will be much partying!
Children seem to love things ghoulish and gory and will confidently talk about blood and guts but will not eat meat that is evenly remotely pink and certainly would not eat real innards!  However they do like food that looks weird and frankly quite gory and never more so than around Halloween.
But are you wondering on what food to provide? 
Is it going to be bought in or are you going to create ghoulish delights from scratch?
In the past I have seen Mums create amazing themed food around Halloween and Bonfire night and thought I would share a few family and friends ideas.

If you love the whole cooking experience then you could make the following from scratch or indeed just buy in but some are worth just that little bit of effort.

Here are some suggestions

Putrefied Innards on Witches Hair
Blood and Guts Potatoes
Eerie Eyeballs
Batty Pizza


Today I popped into Wisebuys in Narberth.  (Also a branch in Pembroke) and they stock all the ingredients especially the pasta used for the Witches Hair – (Courtesy of Nigella Lawson) and the family favourite Putrefied Innards!!  Yes really! The pasta used is the very thin Squid Tagliatelle – Specialita Tagliolini al Nero di Seppia by Lancier.  The Putrified Innards is a quick sauce made with chopped onions, chopped carrots, tomatoes and sliced mushrooms.  Simply sauté the onions and carrots until soft, add the chopped tomatoes (Tinned are fine or use one of the many jars of Tomato Sauces available at Wisebuys) and then add the mushrooms.  Simmer for around 20 minutes, Season and add a little sugar – (sweetens the tomatoes) Cook the Squid pasta according to the packet instructions, drain and place in shallow dish and spoon over the sauce.  It tastes wonderful but looks completely ghastly- a definite child pleaser!

Another favourite is again one of Nigella's which you will find in her book Feast. Its Blood and Guts potatoes.  For this you will need Baking Potatoes, Mozzarella and tomato ketchup – (Wisebuys has all of these)
Prick the potatoes and place them on a baking tray in a hot oven (220˚ ) for around an hour depending on size.

Remove from oven and allow to cool a little before cutting them in half lengthwise and scooping out the flesh.  Leaving the hollowed out skins on a baking tray.

Put the potato in the bowl and mix in the chopped mozzarella and a couple of tablespoons of tomato ketchup. 

Spoon the mixture back into the potato skins and drizzle the ketchup over the potatoes in a blood and guts sort of way and pop back into the oven until warmed through.

For the Eerie Eyeballs. 
You can use the little individual cheeses or select a pale mild cheese and cut out small circles/ discs of cheese on which place halved olives stuffed with red pepper. 
The large green olives are best, place cut side down with the rounded end of the olive uppermost with the red pepper showing.
With red food colouring then 'paint' (a cocktail stick works for this) wriggly lines from the olive to outer edge of cheese disc so they resemble bloodshot eyes.  
Not all children like olives but great for Adults with a glass of blood red wine!!

Children love pizza's and you can make your own with a fabulous flour from Wessex Mill Tomato and Garlic Bread Flour and use one of Pizza Express sauces, all of which are stocked at Wisebuys.  However it might just be simpler to buy in a pizza and then cut out bat shapes!

For dessert, mini cup cakes would go down well suitably themed with Halloween jelly sweets or equally gory coloured icing!  You are only limited by your imagination and children have plenty!!

Finally the pumpkins. They make fabulous lanterns but don't waste the flesh, make pumpkin pie or the delicious Pumpkin Soup (see last weeks blog)
Today Wisebuys had loads of Pumpkins but they are going fast so pop into Pembroke or Narberth stores as soon as you can.  Wisebuys will deliver within a 5 mile radius so why not give them a call on 01834 909 027  for Narberth or for Pembroke 01646 429 206   It is so good to BUY LOCAL
If you have some gory ghoulish recipes do share them!