Message To Business Owners - July '21

There's a saying in nautical circles that 'a smooth sea never made a good sailor'.

The gist, of course, is that you only get good when you have challenges to deal with. And that's the same in every worthwhile walk of life. including yours - Right now!
Yes, it's natural to feel anger and frustration and fear for the prosperity of your business as the country has endured recent lockdowns. It's also easy to think of yourself as a victim, but despite all the restrictions (hopefully now ending), you have a lot more say than you realise about what happens next in your business.

This is your moment to 'control the controllables';

 - to focus on the things that you can do something about and fight with every sinew of your being not to get dragged into the 'woe-is-me' pit of misery and despair that has enveloped the country.

Because you CAN rise to this challenge. You CAN find a way through; a way that actually strengthens your business.

Here are some steps you could (and should!) take this week:


1. Get on the front foot with your communication...
This is not the time to go quiet on your customers. They need to hear from you. And your messages need to be positive. Don't fuel the misery train. (Hopefully you didn't put out the 'We're now closed due to Lockdown' nonsence that everyone else was doing and many did to their cost last time around)

2. Think creatively...
It's a great opportunity to galvanise your community behind you, to put out a super-positive message about 'supporting the community'.

Control the controllables. You don't have to miss out on all the lost sales of the last 12-14 months – perhaps you've already started selling online, depending on your business category, and noticed that your catchment area could expand massively!

3. Remember marketing is a NOT a non-essential spend...
If you shut down your activity here, you're effectively giving in. The effect of the lockdown has resulted in more people browsing online, with more time to look, watch and consume. Ad costs will almost certainly rise again soon, but the 'not so savvy' businesses have vacated the field too quickly and have left more opportunity for the 'savvy'. These are still great opportunities for those smart enough to see it.


"And remember, doing business without marketing is like winking at a girl in the dark. You know what you're doing, but nobody else does!"
You've got to keep the out-reach going. Control the controllables.

4. Be in front of your customers as often as possible...
Many are still going to be, or choosing to remain at home and consumption (of your messages) will lead to sales.

5. Phone your customers…
Radical eh! Seriously, reach out. Reassure them. Help them. Their lives are probably full of just as much uncertainty as yours. Be there for them. Get on the front foot. Proactively nurturing a relationship is one of the most valuable things you can do in business. Show them you care.

6. Skill up...
Use this time to do the things that you KNOW you need to do. Get your marketing sorted, properly. Get your Knowledge Centre sorted, properly. Fix your 'Google My Business' listing. Sort your LinkedIn profile. And then  Get Re-marketing set up. Understand your numbers.

Control the controllables.

Look, I'm not pretending that recent times have been anything other than hard.

And we know it's likely that the pain will continue for a while yet as people's confidence will take some time to return. That's just how it is – and you don't have any say over that.

But you (still) have way more control over what happens to your business than you realise.

And this stormy sea can be the making of you.

You're not alone – and together you can – and will – prevail.
Do you remember 'Operation Protect'?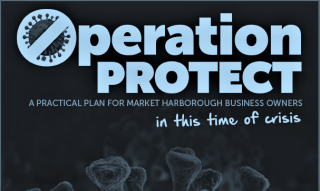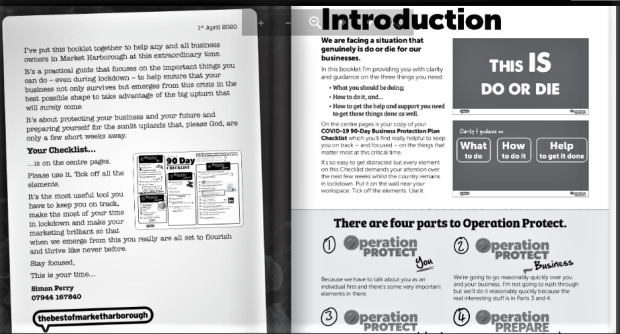 Operation Protect was our campaign 36 page document during the 1st lockdown to help get Market Harborough businesses back on their feet as quickly as possible after lockdown and to give them purpose. We had an amazing response and excellent feedback from business owners saying it had helped them keep a positive mind and use the time productively to enhance their business.
Well, guess what - everything in that document still very much applies.
It's a 36 page document in hard copy or as a downloadable booklet guide to help any and all business owners in the Market Harborough region make the very best use of their time whilst we are in Lockdown and beyond.
If you'd like to see and download an online version of this document, you still can with our compliments by clicking here. It's FREE!
And if you are quick, I have just a few hard copies left (much easier to read) - just call or email me with your details and I'll post a copy to you, (subject to availabilty) - again for FREE! - I'll even pay the postage ('cause I'm like that!)
There's an old saying: 'Stopping marketing to save money is like stopping your watch to save time'.
It just doesn't work, as what you save today you will pay for tomorrow.
Now is the time to make considered, measured decisions that will put you in a great place for the future.

STAY STRONG, and stay safe,
Simon 
Simon Perry - The Bestof Market Harborough
07944 167840