Good Food And Pottery Go Together
10th September 2019
... Comments
---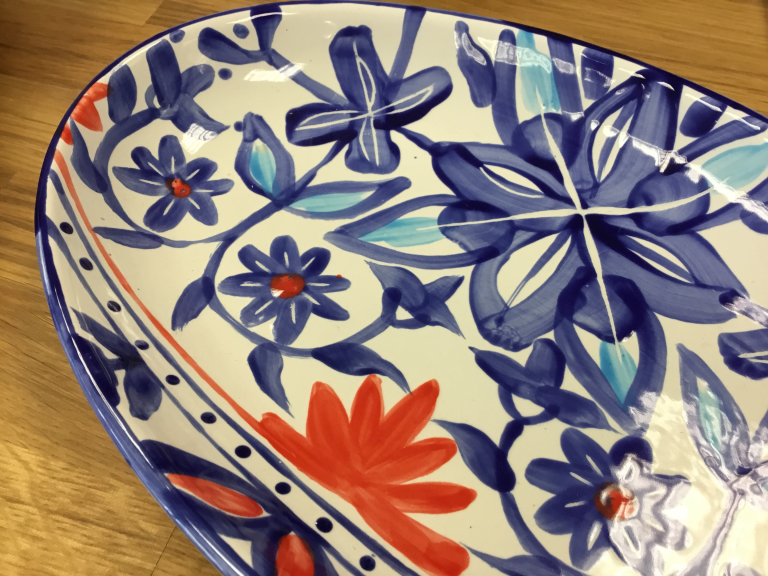 At the age of 37, I decided it was time for a career change so I set up The Paint Pottle ceramic art studio in Market Harborough.
The inspiration for the studio came from having a lifelong love of pottery and a desire to make art accessible to all. I'm not sure exactly where this love for pottery came from, however I do remember visiting seconds factories with my mother and loved playing with clay at school. We had the full Hornsea Heirloom collection at home in those lovely warm brown tones but I have always loved the ceramics of the Far East and the colours of Mediterranean pottery. For me they represented other worlds – a hint about how other countries and cultures lived and while I love living in Market Harborough now, I was desperate to explore beyond Leicestershire as a child. I have an eclectic collection of holiday pottery at home which 'maps' my travels.
After leaving university, I lived in London and worked for a while promoting Sainbury's non food offer which included home wares. During this time I met Sir Terrance Conran whose work I have always admired, including his collections for Midwinter in the 1950s. I strongly share Conran's philosophy of good design being available to the whole community and just as he was influenced by the Bauhaus and Arts and Crafts movement, the marriage of form and function drives my preference in the pieces I collect and make today.
Another designer I worked with at Sainsbury's was Simon Stevens. Although not as well known as Conran, my 'best' crockery is from Steven's Nature collection for Wedgwood (which is also on permanent display at The V&A.) This award winning ceramicist also designed tableware for Sainsbury's and at a time when supermarkets were first branching out into non food wares, it was an exciting opportunity to realise accessible but well designed kitchen and tableware. Working with these designers helped me recognise that the presentation of food is as important as its taste (more so if you're eating my cooking!)
Good food and ceramics go together and the happy, colourful experience of dining together is the inspiration behind The Paint Pottle's decorate and dine experiences.
Each workshop includes two evenings – the first dedicated to decorating a piece of pottery in a distinctive style and the following evening (2 weeks later) is about filling that pottery with delicious food.

Our next experience explores the tradition of Italian majolica ceramics (new post pandemic dates to be confirmed) and two weeks later you return to collect your pottery and learn how to assemble an authentic Italian tiramisu - £40 per painter which includes both session, pottery and ingredients.

For more information about the themes and dates of these workshops and more visit www.thepaintpottle.co.uk, check out our facebook events pages or call Claire on 07900 090 851.
(Please say 'as seen on The Bestof Market Harborough)
Claire Webb
The Paint Pottle
43 St Marys Road
Market Harborough
Leicestershire. LE16 7DS