We know we should treat Mum special every day but Mothering Sunday gives you the chance to show your Mum how much you really care.
For some of you it's the time to remember all the great things you did together and how special your Mum made you feel.
Personally I will be raising a glass to an extra special lady who left us far too early.
For those of you, who are lucky enough to still have Mum around give her a special hug this Mothering Sunday 22nd March.
Here are just a few ideas to help you:
Why not treat her to some stunning jewellery? Pop into ES Jewellery where they offer recognised brands including Thomas Sabo, ChloBo and the popular Pandora.
Lichfield's favourite business (according to you) The Cheese, Gin & Ale Barn have a huge selection of gins and they have some fabulous hampers that Mum would love. 
If your Mum is fascinated about Lichfield history why not book her a tour with Jono's Tourism? Jonathan offers walking tours in and around Lichfield.
Something a little different..... How about a gift voucher for a Bread Making Course with Hunnypot Cottage? We've received some excellent feedback about the course.

Treat her to some high quality, stylish kitchenware from The Kitchen Shop. Whether you get her cookware, bakeware, coffee makers, pots or pans, she's sure to love it. Make sure you visit their upstairs showroom for decorative glass and gifts too.
Or pop along to the The Lichfield Pantry for some indulgent but totally natural beauty products for Mum to try. They smell gorgeous.

If she's the gardening type, why not visit Lichfield Garden Centre. They have a variety of plants, whether they're indoor or outdoor, ornamental, big, small and everything in between; it's the perfect place to find something she'll love. Ask them about their gift vouchers for their forthcoming coach trips to interesting gardens around the UK.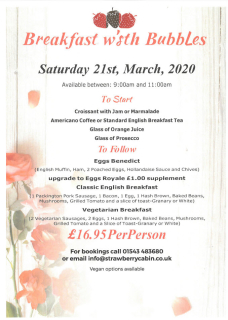 For something a little different why not treat Mum to Breakfast with Bubbles available on Saturday 21st March or book for their popular Mother's Day lunch both available from The Strawberry Cabin Booking advised.
Treat Mum with a delicious Sunday Roast from your favourite Farm Shop Bradshaw's Farm Shop & Cafe, and she will receive a free glass of Prosecco too!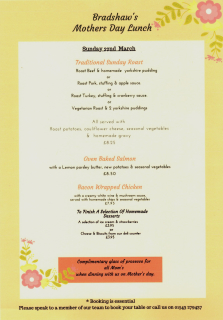 The Cafe in the Close at Lichfield Cathedral invite you to join them this year, where they will be serving lunch between midday and 4pm.

With so many places and things to do, she'll be made to feel extra special this Mother's Day!