Lichfield Businesses here to help....
Here at thebestoflichfield we want to help, and we've tried to include as many businesses as we can that we know are offering you either delivery or collection services in this extraordinary time.
If you know of any other business, please get in touch & we will try & mention them too!
If you need anymore information just click on the main header for all the businesses below.
What we don't want at this time is for you to worry about your beloved pets. The lovely people at Animals at Home have a fully equipped ambulance to transport your pet to whichever vet you request. They are fully licensed and insured and will look after your pet as if it was their own. 
Although they may not be able to come out to you at the moment if you'd like to discuss any upgrades to your curtains, blinds or soft furnishings they are offering telephone or Zoom call consultations. They can also send out samples for products you are interested in. Check out their online shop. Contact Garin on 01543 406162.
Although the café is currently closed the team at Bradshaw's are open for collection from their butcher's counter & farm shop. All pre-ordered via email or phone. Their order form is on the link above.
Cycling 2000
Are booking appointments for service, repairs and sales enquiries from their email to contact them for an appointment please email info@cycling2000.co.uk

By placing your order before 2pm every Monday you can collect from several pick-up points around Lichfield including Armitage, Longdon, Whittington & even Tamworth. They have artisan bread, fresh fish, meat, cheese, jams, and vegetables. Why not take a look?
Have opened their Drive Thru kiosk for you to enjoy their freshly picked strawberries and rhubarb. Also available are soft drinks, cream, relishes and eggs!
Although now reopen from May 13th between Wednesday - Sunday they will be continuing with their delivery service of their range of current plants, they will be starting flower baskets later in the Spring too. They are the only local nursery selling these quality composts, as recommended by the Which Report January 2020.
Humax Original and Humax Multi purpose £5.99 each or two for £11
Melcourt Sylvagrow Peat free compost £6.99 each
After last year's success, we will also be having Melcourt Sylvagrow grow bags again this year - stock arriving soon. Phone & place your order today. 
Lichfield Garden Centre
Byron is out & about delivering his bedding plants, cottage plants, vegetable plugs they have some great offers check out his video on their feature page. Pre-order only by phone or email.
Hollybush Farm Shop
Same day local delivery service (within roughly 10 miles of the shop initially). Call us on 01922 417714 to place your order between 8am-10am. Deliveries will be sent out the same afternoon. 
Delivery will cost £3, for the time being we can only offer this for our Essentials Box (pictured below). The price is £45 + £3 delivery. Payment can be made over the phone when you call your order in.
We're unable to take orders via Facebook so please give us a call.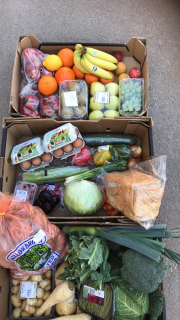 Smith & Ellis Butchers - Fradley
They offer contactless delivery and automatically discount NHS and all blue light card holders and serving military. Get in touch on 01543 444012.
One of the saddest things during this period is that we are going to miss birthday's or anniversaries of our dearest friends. Why not send them a beautiful gift from the fabulous collection at The Kitchen Shop online. That way you're still supporting a local Lichfield business!  
Are offering you a delivery & collection service for pre-ordered goods only. They have a comprehensive list on their website of goods available including, pulses, pasta, frozen food, bread and cakes. Bear with them they are only a small team trying to get to all of you.
Open Thursday & Friday 11am - 3pm
Saturday 9am - 1pm
Have you booked for one of their Virtual Gin Tasting Evenings? Why not, no taxi required!
Prescriptions
If you are struggling to collect from your pharmacy then get in touch with Prescription Care Services they can deliver to your door. 
Are offering accommodation to key workers to include an evening meal where wanted. 
This has been working very well as everyone is on a different time schedule and social distancing has been easy to maintain. 
I am also offering hot meals to take away or eat in.  As space is limited reservations can be made by calling me on 01283 792154 with payment taken by card transaction.  There is a large tub of hand sanitizer by the front door and a plentiful supply of antibacterial spray.
Take Away Restaurants & Bars
Le Rêve Cocktail Bar 
Due to popular demand we amended our license so that we can now deliver cocktails straight to your door! 
Call us on 01543 253663 to choose a delivery time slot between 6pm and 9pm. 
We also have wines, beers and ciders as well as non alcoholic options for the kids.
Order more than one round per order and receive a 10% discount.
Minimum order £15* 
Bitter-Suite Pub 
Starting on Monday 4th May you can get hold of your favourite tipple of Real Ale or Cider between 6 - 9pm on Mondays, Wednesdays, Fridays & Saturdays 12pm - 2pm only. If possible can you take your own container. 
Aashiq's Restaurant & Takeaway 
Please spread the word to friends and family ( whom may not be using social media) that Aashiq's delivery vehicles are on the move again...
we are ready to deliver piping hot food to your door. 🚗 
Call us .. 01543 677800 
Click here 👉 https://aashiqs.co.uk 
Open from 5:30 pm everyday! 
For takeaway and delivery orders only. 🤩 
Aashiq's Restaurant would like to thank all our friends and customers for all your support and understanding during these testing times,
It means a lot to us! 😃 
Delivery
Please allow our chef's around 45 minutes for creativity 👌 
Takeaway
Please allow us around 25 minutes for collection takeaway with 10% discount. 
Los Banditos
You can order from our main, kids dessert and take away menu, we also offer beers wines and cocktails 🍹🍺🍷
Free delivery on orders over £10 up to a 3 mile radius
We do cover Burntwood & Fradley minimum orders are £25... thankyou and stay safe....
 #takeaway #mexicanfood #burntwood #lichfield
Queens Fish Bar 
The health and wellbeing of all our staff, customers and community is of the utmost importance to us so there will be a one-in-one-out policy in store.
Please be assured we will be preparing food in a production area and maintaining social distancing. When placing telephone orders please call us on 01543 897660 & customers will be given a precise collection time to come and collect their food from Queens. This will ensure that social distancing is enforced and will keep ourselves, customers and the community safe.
Payments will be made at the counter via card machines (contactless available). We can accept cash but would much rather everyone paid by card for the time being.
Thank you to all our customers old and new, you have been amazing in supporting our local business!
They are also offering a 20% discount to Blue Card holders. Remember your ID.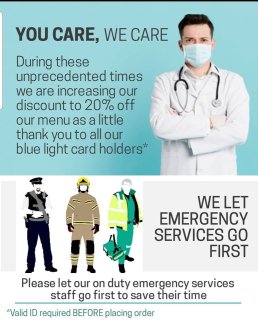 Pizza by Goli 
We are delighted to announce that we are-opening to provide a takeaway only service from Tuesday 5th May from 5pm.
Ordering:
Our menu is on the website www.pizzabygolilichfield.co.uk and we will take your order by phone. Call 01543 250916.
We give 10% discount for NHS staff.
Payment:
For everyone's protection we will not accept cash but will take your card payment by phone when you order.
Collection or Delivery:
We can deliver free within Lichfield (minimum order applies)
If you prefer to collect your food, we will give you a collection time.
Ruby Chinese
We are delivering again however due to government rules regarding the Corona virus we aim to keep our staff & customers as safe as possible 🙏
TEMPORARY RULES
1. No walk ins please
2.telephone orders only no cash payments credit debit cards only.
3.Our delivery driver will leave your meal outside your home will inform you by phone that your meal is outside then stand 6ft back to make sure you picked it up
4.If you live inside a flat tall building etc our driver will not be delivering inside( they are not allowed to go in elevators & touch banisters handles etc) so same as rule 3 please come outside to collect it or arrange for someone to do it for you
OPENING HOURS
SUNDAY 5-10pm
CLOSED MONDAYS
TUESDAY TO THURSDAY 5pm -10pm
FRIDAY & SATURDAY 5pm -11pm
Telephone 01543 419899
Remember this is just a few of the fabulous businesses helping you, if you know of anymore please let us know and we can add them!