Do you want to be part of the Cathedral's major Summer exhibition?
100 years on from the end of World War One, the Cathedral hosts 'The Great Exhibition 2018 - Imagine Peace', a significant exhibition of light and sound, sculpture and art installations.
Peter is looking for assistance with two installations which pay tribute to two important and often over-looked aspects of life in World War One and after. 
"Patches"
"Patches" is a mass participation project designed to pay tribute to the home front, the "Make Do and Mend" attitude and the caring and providing which domestic life focused upon during the conflict. We cannot imagine the conditions of a world war, or the patient waiting around for letters and news of loved ones. However, the domestic front did not sit idle, many women began to excel in industry, groups and individuals used their talents to help provide for their communities and indeed the war effort. 

At home, women knitted scarves and produced items of clothing for soldiers at the front as a reminder of home and as a message that they were not forgotten.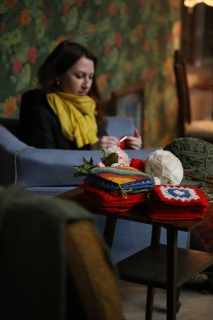 We are asking individuals and groups to create individual 6-inch knitted patches, which will be stitched together to create a giant artwork which will be displayed within the Cathedral and pay testament to the domestic front during the conflict. The more patches we get the bigger the artwork will be. 

All patches are required by the middle of July and if you are unable to bring them to the Cathedral can be sent to PETER WALKER, The Chapter Office, 19a The Close, Lichfield WS13 7LD.
"Buttons"
Everyone has a tin of unwanted buttons somewhere in their house. "Buttons" will be a unique installation of thousands of individual buttons as part of this summer's exhibition.

In war, we are very aware of military losses, which are rightly recorded and tributes paid. However, the loss of children's lives during war and conflict is often forgotten. The installation will be a tribute to children who have lost their lives because of conflict.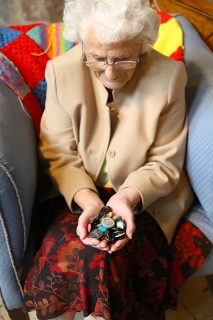 We are asking individuals and groups to send in unwanted buttons, any size and colour, to help create the artwork and so that we can place a button for the thousands of children whose lives were cut short.

To get involved bring your buttons to the Cathedral or send to PETER WALKER, The Chapter Office, 19a The Close, Lichfield WS13 7LD.
"Letter Home"

Write a letter to an ancestor from World War One on a sheet of A5 paper. The letter can be personal and reflective or just ask a question. These letters will be gathered and then displayed during 'The Great Exhibition' this Summer.
Please send your letters (do not put an address or phone number on the letter) to: PETER WALKER, The Chapter Office, 19a The Close, Lichfield WS13 7LD.
The Great Exhibition 2018: Imagine Peace opens Friday 17 - Monday 27 August.