Lichfield Cathedral is recognised as being one of the oldest cathedrals in the UK and the only medieval one with three spires. For history, pilgrimage, prayer and worship, please call in to Lichfield Cathedral today - you'll be made very welcome.
 Lichfield Cathedral
A Place of Pilgrimage, History and Prayer
in Lichfield
Lichfield Cathedral is recognised as one of the oldest places of Worship in Britain as well as being the burial place of the great Anglo-Saxon missionary Bishop, St Chad.
Visited by tourists, pilgrims and worshippers alike, Lichfield Cathedral is the symbolic centre and Mother Church of the Church of England Diocese of Lichfield.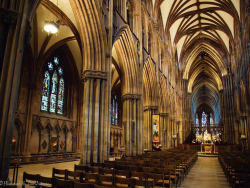 Dean of Lichfield, The Very Revd Adrian Dorber says:
"As a community, the Cathedral sets high store by its welcome and hospitality, in this it tries to be faithful to the friendship and freedom given in the good news of Jesus Christ. Do come and visit. We will be delighted to see you"
---
Discover Lichfield Cathedral
When you visit Lichfield Cathedral you will be offered a free Pilgrim guide of the Cathedral and grounds. Special guides have been written for children and Welcomers and trained Tour Guides are on hand to give advice and assistance.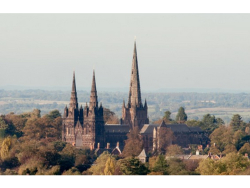 The treasures of the cathedral include:
Herkenrode Glass - the finest medieval Flemish Painted Glass in existence

The Lichfield Angel - discovered in 2003 and dated at around 800 AD

St Chads Gospel - an eighth century Gospel Book housed within the cathedral
---
Outreach
The Lichfield Cathedral Community reaches out to the local community through prayer as well financial support to national caring agenices: 
Diocesan Sound Digest
Supplies over 500 tapes a month to the partially sighted across the diocese.
They sell a wide variety of gifts including:

Books
Souvenirs and gifts
Jewellery
Luxury toiletries
Music CDs
And much more 
Situated in the Three Spires Shopping Centre in the centre of Lichfield.
Chapters - The Cafe in The Close
Coffee Shop and Licensed Restaurant

Serving light lunches, drinks, afternoon tea, homemade cakes to visitors.
Situated right opposite the West door exit of the Cathedral.
Mother and Baby Group
A meeting place for young mothers and their first child. 
Education and Encounter Programme
Tertiary level classes, lectures and talks in a wide range of subjects
Art Exhibitions
Please visit our website for details of the next exhibition.
Visitor Ministry
A warm welcome, hospitality and information is offered to all visitors to Lichfield Cathedral.
Would you like to bring a group or school party on a trip to Lichfield Cathedral? Then please visit our website for further details.
Cathedral Opening Times
Monday to Friday: 7.30 am to 6.15 pm
Saturday: 8.00 am to 6.15 pm
Sunday: 7.30 am to 6.15 pm
If you want to find out more about Lichfield Cathedral, please visit their website for further details. Don't forget to check out their rolling programme of events.
With special thanks to Lichfield Cathedral Photographers.
---