Kingston Royals Ladies paddle to victory in the Great River Race in September 2012
20th September 2012
... Comments
---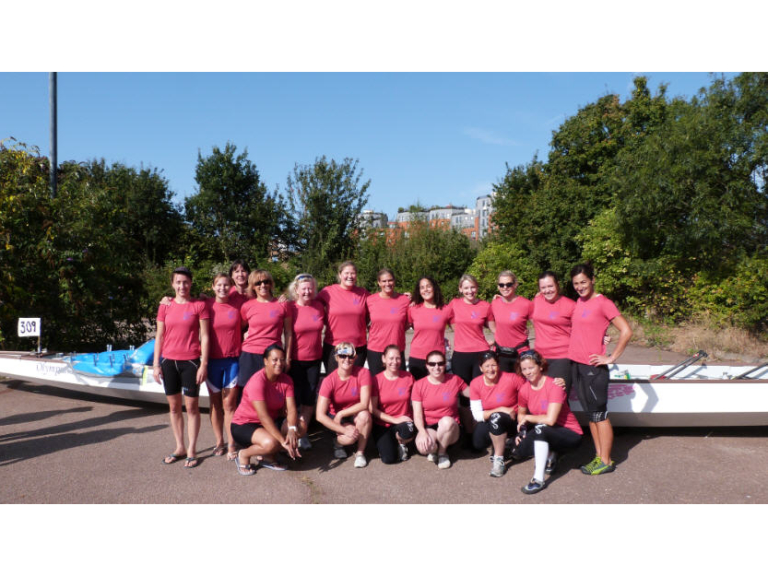 On Saturday 15 September 2012 the Kingston Royals Dragon Boating Club proved triumphant in the annual 21 mile Great River Race from London Docklands to Ham.
The sun shone down on the Kingston Royals Ladies team who were crowned the fastest women's crew and became the recipients of the coveted Chas Newens Trophy, a cup they last won in 1997.
Having successfully put 4½ minutes of clear water between them and the next women's boat OCUK - the winners of the title for the three previous years - the Kingston Royals Ladies completed the gruelling river marathon in an admirable 2 hours 30 minutes. This placed them as the eighth fastest team overall out of over 300 crews competing from around the world.
The all-women team completed the challenge in the club's newest boat, Olympia, bought in spring and named in honour of this special year of UK sport.
The Kingston Royals Men's crew, meanwhile, came third overall with an impressive time of 2 hours 19 minutes.  The men competed in Griffin, the same boat the Club had used earlier this summer to take part in the Queen's Diamond Jubilee Pageant.
Each of the two crews was made up of 16 paddlers, one drummer and a helm to steer them through the strong waves and river traffic, which varied from the usual London passenger cruisers to include outrigger canoes, whalers, rowing boats, gigs and skiffs participating in this Thames challenge.
Both crews wore the club's trademark royal blue and pink colours and were met on home 'turf' by Gloriana, the royal barge which featured at the heart of this summer's Thames Pageant. 
Harriet Lambert, one of two strokes for the Kingston Royals Ladies crew and an experienced paddler, said: "This was the first time most of us had competed in this incredible race and we're over the moon that our months of training has paid off. To say this challenge made quite a change to dragon boating's usual sprint distances of 200m and 500m is an understatement but racing along the Thames through the heart of London was an amazing experience!"
To try out this friendly team sport join the next beginner session with the Kingston Royals on Saturday 29 September 2012 at 8.30am. Register your interest on www.kingstonroyals.com
All ages welcome, cost £3pp.
About the Great River Race
To give all crews an equal chance, entrants are handicapped according to the calculated potential performance of their boats and set off at staggered starts, with the slowest vessel departing first
About the Kingston Royals
Thanks to having some of the UK's top coaches, the team's members are regularly selected to the Great Britain squads.  In summer 2012, 16 club members represented the country as part of Team GB at the European Championships in Nottingham across the Great Britain Premier and Senior squads, winning five gold and three silver medals between them
Despite its competitive successes, the club prides itself on being Kingston's friendliest and most welcoming club, including members from 18 to 60 and an equal split of men and women