"LEGENDS BY LAMPLIGHT" - GHOST TOUR AROUND ST PETER PORT
Town Church
St Peter Port
GY1 7FP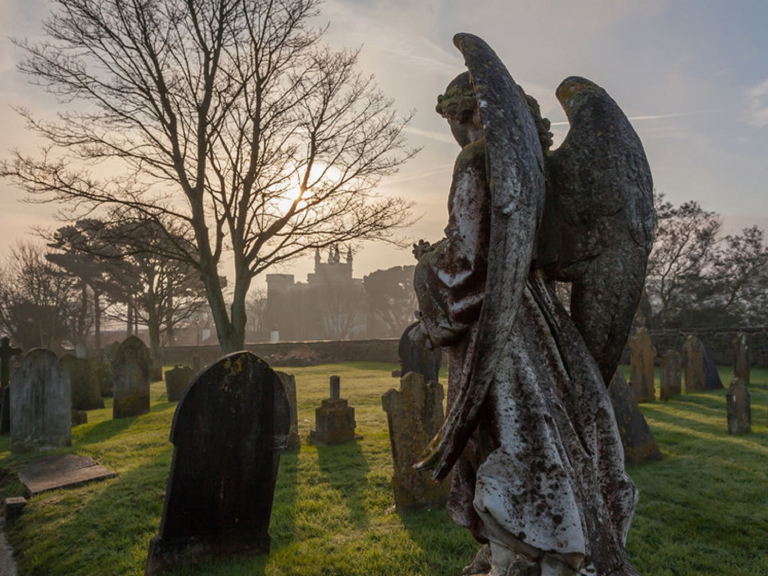 A ghost walk around St Peter Port with local Gold Accredited tour guide Annette Henry.
---
These tours run from late September to early March, starting from 6.45pm on evenings they are booked, departing from the Town Church in St Peter Port, and lasting around two hours.
---
Your accredited guide, dressed in costume and carrying a lamplight, takes you through the "spooky" parts of the old Town, and narrates local ghost hauntings, superstitions and folklore as you walk in darkness over cobbled streets where privateers stored their bounty. From the famous Witch Trials and tortures of the 16th and 17th centuries, when 78 locals were hanged and burnt at the stake, to even older folklore, you will be amazed and perhaps even chilled by what you hear.
Torches, sensible clothing and shoes plus wet weather gear (in case of rain) are all advisable. Each tour is accompanied by an excellent meal at a local restaurant, close to the scenes of the crimes, which will be advised and a menu provided upon booking/enquiry.
---
Email enquiries to AnnetteHenryTours@gmail.com or phone (01481) 263755 or 07781 413893.
The total cost of the tour is £26 per person, by cheque payable to "A. Henry" and sent to La Haie Fleurie, Clos Landais, St Peters, Guernsey GY7 9PD one month before the tour date you book, with your menu choices included. Post-dated cheques are fine as no cheque will be cashed until after your tour.
---
Future dates
Wednesday 12th December 6:45pm until 8:45pm
Thursday 13th December 6:45pm until 8:45pm
Friday 14th December 6:45pm until 8:45pm
Monday 17th December 6:45pm until 8:45pm
Tuesday 18th December 6:45pm until 8:45pm
Wednesday 19th December 6:45pm until 8:45pm
Thursday 20th December 6:45pm until 8:45pm
Friday 21st December 6:45pm until 8:45pm
Monday 24th December 6:45pm until 8:45pm
Tuesday 25th December 6:45pm until 8:45pm
Wednesday 26th December 6:45pm until 8:45pm
Thursday 27th December 6:45pm until 8:45pm
Friday 28th December 6:45pm until 8:45pm
Monday 31st December 6:45pm until 8:45pm
Tuesday 1st January 6:45pm until 8:45pm
Wednesday 2nd January 6:45pm until 8:45pm
Thursday 3rd January 6:45pm until 8:45pm
Friday 4th January 6:45pm until 8:45pm
Monday 7th January 6:45pm until 8:45pm
Tuesday 8th January 6:45pm until 8:45pm
Wednesday 9th January 6:45pm until 8:45pm
Thursday 10th January 6:45pm until 8:45pm
Friday 11th January 6:45pm until 8:45pm
Monday 14th January 6:45pm until 8:45pm
Tuesday 15th January 6:45pm until 8:45pm
Wednesday 16th January 6:45pm until 8:45pm
Thursday 17th January 6:45pm until 8:45pm
Friday 18th January 6:45pm until 8:45pm
Monday 21st January 6:45pm until 8:45pm
Tuesday 22nd January 6:45pm until 8:45pm
Wednesday 23rd January 6:45pm until 8:45pm
Thursday 24th January 6:45pm until 8:45pm
Friday 25th January 6:45pm until 8:45pm
Monday 28th January 6:45pm until 8:45pm
Tuesday 29th January 6:45pm until 8:45pm
Wednesday 30th January 6:45pm until 8:45pm
Thursday 31st January 6:45pm until 8:45pm
Friday 1st February 6:45pm until 8:45pm
Monday 4th February 6:45pm until 8:45pm
Tuesday 5th February 6:45pm until 8:45pm
Wednesday 6th February 6:45pm until 8:45pm
Thursday 7th February 6:45pm until 8:45pm
Friday 8th February 6:45pm until 8:45pm
Monday 11th February 6:45pm until 8:45pm
Tuesday 12th February 6:45pm until 8:45pm
Wednesday 13th February 6:45pm until 8:45pm
Thursday 14th February 6:45pm until 8:45pm
Friday 15th February 6:45pm until 8:45pm
Monday 18th February 6:45pm until 8:45pm
Tuesday 19th February 6:45pm until 8:45pm
Wednesday 20th February 6:45pm until 8:45pm
Thursday 21st February 6:45pm until 8:45pm
Friday 22nd February 6:45pm until 8:45pm
Monday 25th February 6:45pm until 8:45pm
Tuesday 26th February 6:45pm until 8:45pm
Wednesday 27th February 6:45pm until 8:45pm
Thursday 28th February 6:45pm until 8:45pm
Friday 1st March 6:45pm until 8:45pm
Monday 4th March 6:45pm until 8:45pm
Tuesday 5th March 6:45pm until 8:45pm
Wednesday 6th March 6:45pm until 8:45pm
Thursday 7th March 6:45pm until 8:45pm
Friday 8th March 6:45pm until 8:45pm