HERM CHRISTMAS SHOPPING TRIPS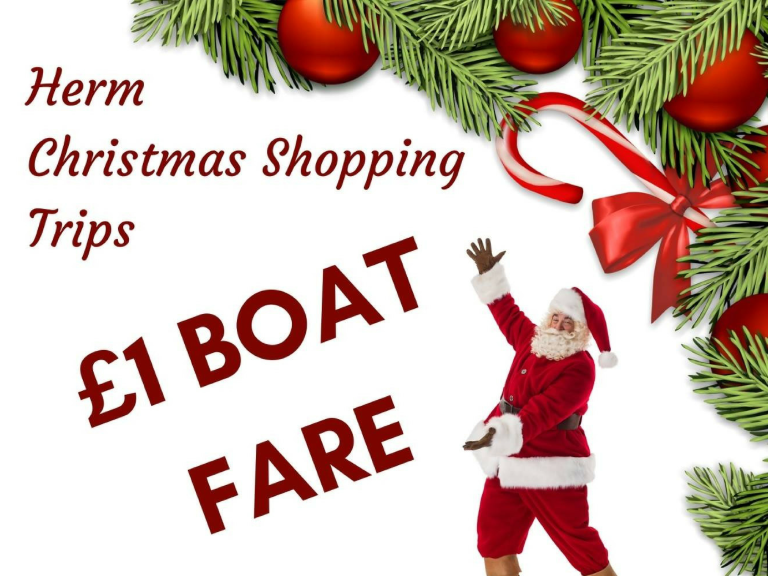 Take a £1 trip to Herm, enjoy the hospitality of the Mermaid Tavern, take a wander around the island, and pick up some bargains for Christmas all in one trip.
---
A Christmas shopping trip with a difference. Take a twenty minute trip on a Travel Trident ferry to the beautiful island of Herm and browse the shops for your elusive Christmas gifts. Follow this up with a hearty lunch, or maybe a glass of wine or two, at the Mermaid Tavern.
After lunch discover Herm by walking the island, admire the views and spot the seabirds, for a great day out. All this for the low price of £1 only.
---
These weekend Travel Trident trips take place on the following weekends:
Saturday 24th & Sunday 25th November 2018
Saturday 1st & Sunday 2nd December 2018

Saturday 8th & Sunday 9th December 2018
Saturday 15th & Sunday 16th December 2018
---
The Travel Trident sails from Guernsey to Herm from the Herm Ferry departure point on the White Rock in St Peter Port from 8.30am (Saturdays only), 10.15am, 12.15pm, 2.15pm and 4.00pm. These times are subject to weather and tidal conditions.
At the weekend return journeys from Herm to Guernsey on the Travel Trident set off from Herm at 9.00am (Saturdays only), 10.35am, 12.35pm, 2.35pm and 4.20pm. These times are subject to weather and tidal conditions.
Pre-booking is not necessary for the Travel Trident and the low £1 cost return trips will only be offered to passengers who depart and intend to return on the same day.
---
The gift shops are open from 9.00am on Saturdays or 10.00am on Sundays until 4.20pm both days.
---
For further information on Herm Island visit the feature page here on thebestof Guernsey.
---
Future dates
Sunday 25th November 8:30am until 4:20pm
Saturday 1st December 8:30am until 4:20pm
Sunday 2nd December 8:30am until 4:20pm
Saturday 8th December 8:30am until 4:20pm
Sunday 9th December 8:30am until 4:20pm
Saturday 15th December 8:30am until 4:20pm
Sunday 16th December 8:30am until 4:20pm