Hart celebrates 10,000 garden waste subscribers
18th July 2017
... Comments
---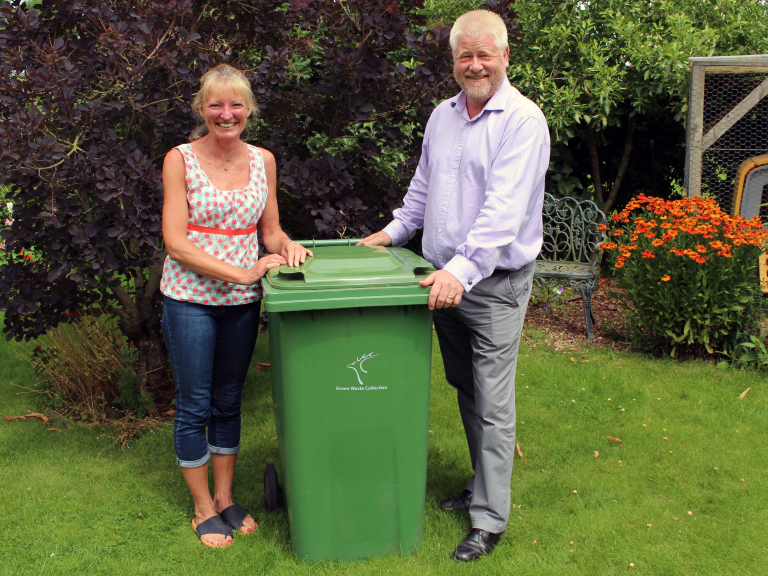 The Council has been running the garden waste service since 2004 and over the past 13 years has seen a steady increase in the amount of garden waste being collected. Currently, over 3,700 tonnes of garden waste material is collected from residents every year and is shredded and composted for 13 weeks resulting in a high-quality soil conditioner called 'Pro Grow' (www.pro-grow.com).
Speaking about the service, Cllr Alan Oliver, Cabinet Member responsible for Waste and Recycling services said: "The service is being provided to nearly a third of Hart households and I'm delighted to see that we have reached this milestone number in subscribers. This service allows residents to dispose of their garden waste with a fortnightly collection, saving them trips to the recycling centre with their garden cuttings and clippings. This scheme provides an environmentally friendly way of disposing of garden waste."  
Mrs Wilson from Heath Lane, in Crondall was the lucky recipient of the free annual collection and said: "I was delighted when I heard I was the 10,000th subscriber. I'm really happy that Hart have provided me with a year's free membership to the service and I look forward to making the most of it."
Hart District Council is running a promotion on all garden waste wheeled bins to new and existing subscribers to encourage those using sacks to upgrade to wheeled bins. All wheeled bins for garden waste collections are being offered at a subsidised rate of £15.00 each (Usually £30.60) until 3 September 2017.
If you already use a garden waste sack but would like to upgrade to a garden waste bin for £15.00 or if you would like to sign up as a new garden waste subscriber, please call us on 01252 622122.