Your guide to things to do in Farnham – 13th October to 26th October
Here's what going on in and around Farnham over the next couple of weeks, there really is something for everyone.
Saturday 14 October
Saiichi Sugiyama Band  Following last year's successful show at Frensham Heights, the band is back for another great evening of music with guitarist Saiichi.
Farnham Repair Café  This free event brings new life to broken stuff. If you have something that needs fixing, pop along. Or if you have a talent for repairing, why not volunteer?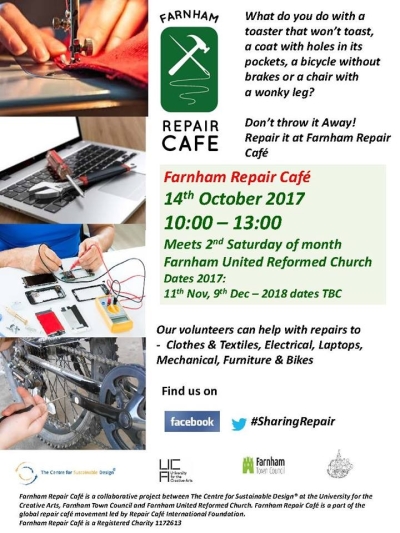 Monday 16 October
Introduction to Weaving  Would you love to weave or take up this fabulous hobby again? Book your place on this Farnham workshop.
Pie & Pint Club, The Beefeater  Are you a retired man living on your own? If so you are invited for a chat and a tasty pub lunch.
Tuesday 17 October
Phyllis Tuckwell Open House  Every Tuesday Phyllis Tuckwell open their doors for Open House afternoons, so that you can find out more about the care and support they offer.
Wednesday 18 October
Music Explored - Illustrated Lunchtime Piano Recitals  Local composer Matthew introduces each work with an informative talk which is then illustrated with a wonderful piano recital and there is time for discussion and questions at the end. Entrance £7.00.
Thursday 19 October
Bears at the Packhouse Breakfast Networking Join local businesses for informal networking from 8.00am - 9.30am at Bears Restaurant, The Packhouse, Runfold. This event will include a presentation by Paul Glynn from Sandler Training - Stop Selling!
Stevie Smith's Sin House  A night of Blues music with Boogaloo Promotions at Farnham Maltings.
Saturday 21 October
FLEETWOOD BAC (Tribute to Fleetwood Mac) FLEETWOOD BAC are the world's first and some say finest Fleetwood Mac Tribute Band. Step back in time as they perform in Farnham.
Sunday 22 October
Farmers Market  Local growers and producers take personal pride in the food they bring to their Farmers' Market and want you to enjoy it. The emphasis is on freshness, quality and value for money.
Monday 23 October
Pie & Pint Club, Rowledge  Are you a retired man living on your own? If so you are invited for a chat and a tasty pub lunch.
Tuesday 24 October
Blood Donation Sessions  Generally healthy? Aged 17 or over? Then do something amazing and Give Blood.
Wednesday 25 October
Fast Track Your Marketing Masterclass  Most business owners spend all day juggling priorities and time spent on marketing and business growth often plays victim to other more immediate demands. During this masterclass Vanessa Lanham-Day will help you get properly focused and achieve results quickly. Local businesses owners are invited to book their place now.
Jazz At The Ivy Room Enjoy performances from saxophone player, Derek Nash, at Farnham's Ivy Room.
Thursday 26 October
Free Bloomin' Kids Gardening Workshops  Free half term workshops for green fingered children. Book your child's place.
Farnham Help for Refugees in UK and Overseas Collection Event  Unwanted items will be gratefully received at St Thomas on the Bourne Church to support refugees.
Ben Poole Band  Ben Poole is being talked of as 'the' new up and- coming UK Blues guitarist. Check out his performances at Farnham Maltings.
Coming Soon... 
Mirth Control Comedy Live at Borellis  Borellis Wine Bar and Grill host a fantastic evening of laughs with their Halloween Comedy Club. Try out their new pizza menu and get a free pint or glass of house wine with every pizza ordered! Booking available in advance.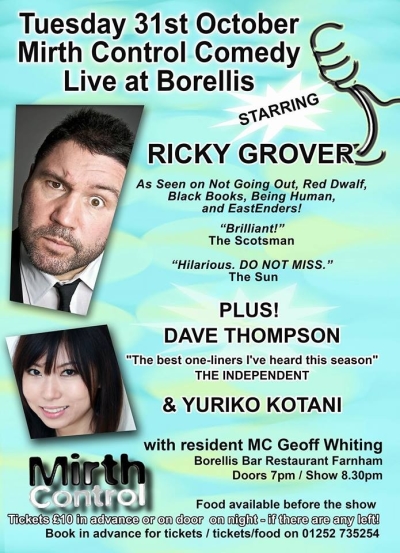 For further details about all these events and to find things to do in and around Farnham, please visit our Events page HERE  
If you'd like to maximise the audience for your events add them FREE to thebestof Farnham website HERE – and we'll promote them to thousands of local people.  
To keep up to date with everything that's happening locally, great offers and trusted local businesses register for email updates HERE .