Want a stress free Christmas Dinner? Break the tradition and eat out in #Farnham this year
15th December 2011
... Comments
---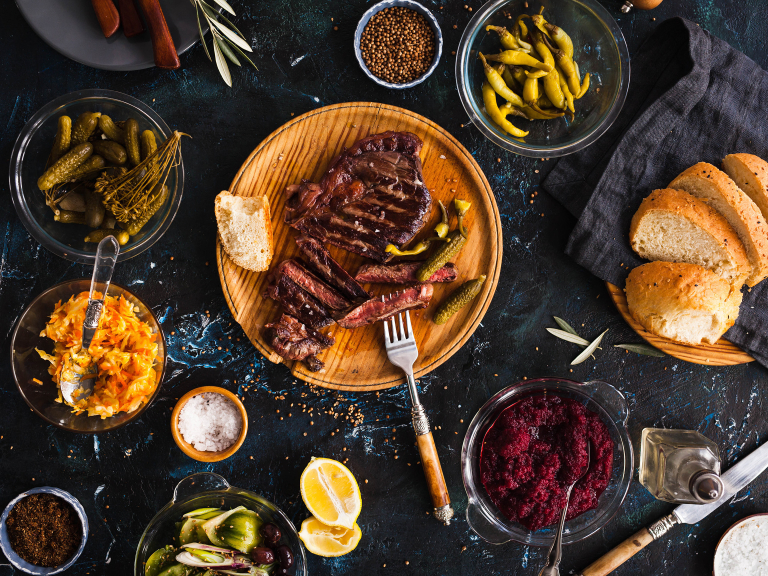 The holidays can be stressful enough without the pressure of preparing the perfect Christmas dinner and although many like to celebrate Christmas in the comfort of their own home, it can be a real treat to hand the reigns over to someone else..

Visit your local pub's restaurant. Walk into a ready-made warm and inviting atmosphere with your family and friends, sit back and relax and let someone else do all the hard work. All restaurants will go to significant effort to make everything look Christmassy and you are guaranteed the bad taste jokes in the crackers and the paper hats!

OR

Shop until you drop, spend far too much money on things you won't even eat. Forget to defrost the turkey. Then there is all that work of peeling mounds of potatoes, vegetables to prepare and all the heat and steam to follow. I am sure your guests will enjoy your hard work but enough to deal with the greasy pans and gravy plates stacked up high in the kitchen?

No wonder dining out at Christmas, as well as New Year's Eve and New Year's Day, becomes more popular every year.

The best of Farnham offers delicious options for people who would like to visit a restaurant for their Christmas lunch, celebrate with friends over the festive period or just enjoy a quiet Christmas day drink, each recommended by Farnham's local community:

Shepherd & Flock
Celebrate New Year's Eve in style with the Shepherd & Flock Pantomime Party. The evening includes Fancy Dress, Games, Prizes and  Buffet all for £15.

The Spotted Cow  Lower Bourne
The Spotted Cow kitchen is open every day over Christmas & New Year with delicious festive options to choose from. Just check opening hours first as these may vary. Christmas Day lunch, at 1.00pm, booking essential.

The Plough
Jacques and her team invite you to The Plough on December 23rd for their Christmas party. Not only can you benefit from their homely log fire, the evening will kick of at 8.00pm with traditional Christmas carols and mulled wine followed by the Mickey Kemp band who will have something to suit everyone's musical tastes. Children are very welcome.

The Royal Oak Wrecclesham
Christmas menu available at lunchtimes or evenings right up until 24th December. Choose from their Christmas Feast or Plated Mains options accompanied by delicious homemade mulled wine.

The Horns Crondall
New Year's Eve with Colin Webb's Solid Cat Flap Juice, promising some brilliant party music and a sumptuous buffet to keep the party goers well fuelled. "Get U Home" service available. All for only £20 per head. Book your ticket now.

The Barley Mow The Sands
If you are still looking for that perfect venue Parties are welcome to book to enjoy a fantastic Christmas menu right up until 23 December.

Maybe you just don't fancy another traditional Christmas meal, there are some great alternatives in Farnham: Caffe Piccolo, cafe fig or The Lion and Lamb Bistro.

Whatever your preference call the venue now to avoid disappointment and then, be responsible and book your ride home with Farnham's local cab firm - Home James Taxis.