Take Up a Skydive Challenge!
12th January 2016
... Comments
---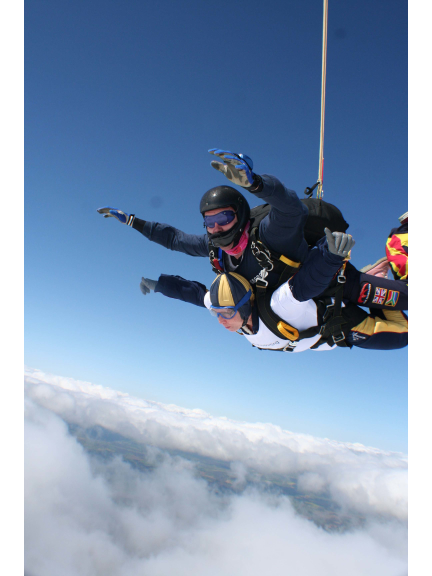 You'll board a plane which will climb to 12,000 feet, but instead of checking you're buckled in tight, you'll need to battle your natural instincts and fling yourself out through the open door!
But don't worry – it's all for a good cause! These skydive days raise money for local Hospice Care charity Phyllis Tuckwell, which provides support and end of life care for over 250 patients and relatives every day, offering medical care, nursing, therapies, counselling, social work advice and practical support to help them as they come to terms with facing a terminal illness, such as cancer.
Phyllis Tuckwell's patients are in good hands – and so will you be. You'll be strapped to one of the Army Parachute Association's experienced tandem instructors, and skydiving in the UK's largest drop zone, the Airfield Camp in Netheravon, Wiltshire, where Phyllis Tuckwell has been holding organised skydive days for over ten years.
Before the jump you'll undergo all the necessary training, as well as meeting your instructor and the other adrenaline-seekers who will also be skydiving that day. The freefall speeds you will experience will top 120 miles per hour, and you will fall for approximately 7,000 feet before your instructor deploys the parachute canopy at 5,000 feet and you begin your five minute gentle descent to the designated landing zone.
Keen to give it a go? Well, you've got three dates to choose from. Take your pick from Saturday 19th March, Saturday 4th June and Sunday 25th September. Registration is £50 and you'll need to raise a minimum of £450 in sponsorship. For more details or to sign up to a skydive challenge, visit the webshop or call Phyllis Tuckwell's Fundraising team on 01252 729446 or email fundraising@pth.org.uk
– Ends –
Notes for Editors:
For press enquiries and alternative pictures contact: Jen Barnes at Phyllis Tuckwell on 01252 729433 or email jen.barnes@pth.org.uk