School Prom - A night to remember?
It wasn't that long ago that British schools didn't have a prom; a simple school disco at the end of term was all that generally finalised the end of an era. Now, more than 85 per cent of schools in Britain have a prom celebration but it's not always popular, with some parents seeing it as just another American import.
Prom is a learning experience
Learning how to behave in a formal setting, using good manners and acting like ladies and gentlemen, are just a few of the lessons young people learn without even knowing it. Of course there are the lovely clothes and the nice dinner but young people also understand the cost their parents are willing to pay for them to have a great experience.
It doesn't matter if they don't want to go
Undoubtedly watching your son or daughter prepare and arrive at prom is a proud 'mummy/daddy' moment but if it sounds like their worst nightmare, is it really the end of the world?
The ultimate pamper experience
For many children this is their first opportunity to really be the centre of attention and have treats bestowed on them that would not usually be considered! For those that wear school uniform five days a week  or only slouch around in tracksuits and trainers, seeing their friends in elegant evening gowns and high heels or a suit and tie will be really exciting.
The right hairstyle, make-up and nail extensions are important too!  And don't forget the spray tan - fashionable with both boys and girls.
They will also need beautiful flowers guaranteed to impress. Prom flowers typically consist of a corsage for the ladies and a buttonhole for the gentlemen. Traditionally, the colours and flowers used were matched to the colour of the prom dress; but like most rules, this one was made to be broken. Corsage options aren't limited to the wrist either, as modern corsages can be worn around the waist or in the hair. 
If floral adornments seem a bit daunting, don't panic, Farnham florist, Petal and Stem are the experts. Conveniently based in Squires Garden Centre, Badshot Lea, they are on hand to listen, offer advice and create the wow factor to complete your outfit.
Take advantage of the Petal and Stem offer - 10% OFF Prom Wrist Corsages! Download your voucher HERE.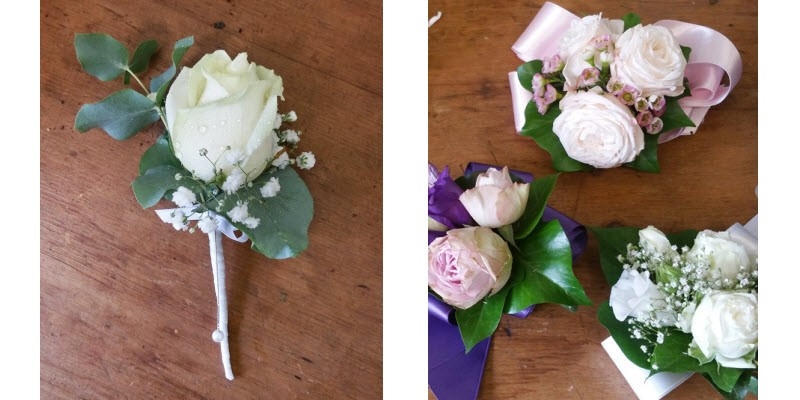 Simply remember...
Modern day proms signify an important school milestone and for most have a magical allure. However, arrangements for this special occasion can be stressful and it's very easy for both parents and teenagers to get carried away.
Stay within your budget, give your child advice about how to make good decisions at the event and after parties and be aware that it is a time when peer pressure, and low-self esteem issues can raise their ugly head – Proms are supposed to be fun!