Local Farnham Youth Group Need Your Clothes
12th May 2015
... Comments
---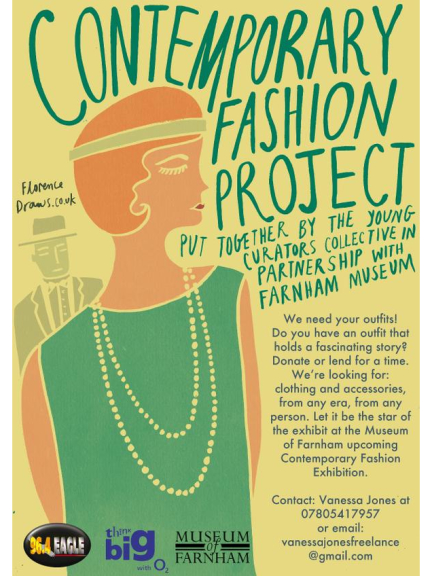 The young curators collective, in partnership with Farnham Museum, are busy creating a Contemporary Fashion Project but they need a little help. The group are looking for an array of outfits from the local community that tell a story!
 An outfit can be anything from your great grandmother's favourite dress that tells a tale of the time, to something that you wore to a special occasion recently that holds a certain amount of sentimental value. The aim is to read your outfits through the lens of their social and historical contexts. What will aid the outfits' story will be additional items associated to them; photographs, oral testimonies, accessories and general paper ephemera relating to an event that the outfit might have been worn to. The outfits can either be lent or donated permanently to the museum's collection, from anyone who currently lives or for a time has lived in Farnham - any age, any sex!
The Young Curators
The Collective has brought together 14 like-minded 16-25 year olds, who have an interest in pursuing a career within the cultural arts sector. Each participant will have the opportunity to develop their skill set through involvement in hands on monthly sessions with guest speakers and study visits, including a trip to the Victoria and Albert museum. Curatorial experience will be gained through their planning and implementing of a contemporary fashion collecting project. After eight months of planning and utilising skills, developed through the Collective, participants will create their own contemporary fashion exhibition.  
Your outfit could be the star of the show at the Museum of Farnham Contemporary Fashion Exhibition! If you think you can help please call Vanessa Jones on 07805 417957 or email vanessajonesfreelance@gmail.com