Harvester in Aldershot Shares Lunch with Support Group
5th January 2016
... Comments
---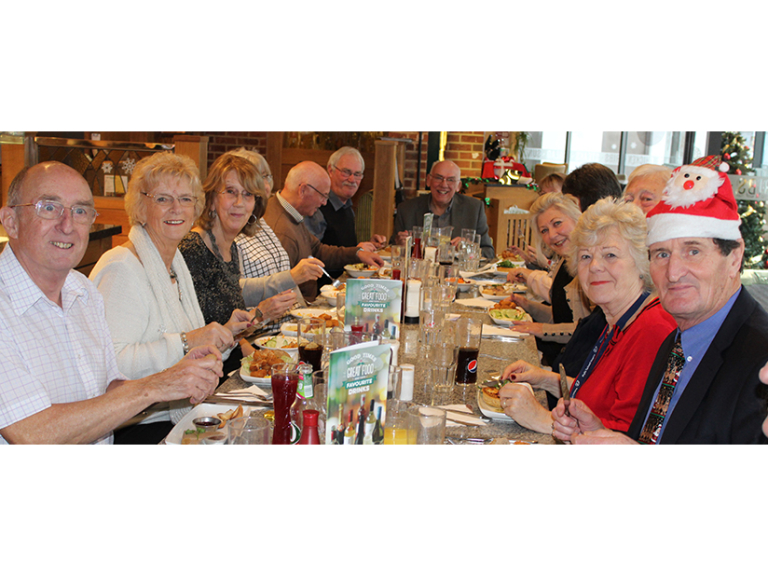 The support group, which meets once a week, is facilitated by counsellors and volunteers, and offers those who attend the chance to share the difficulties and emotions they face as they come to terms with the loss of their loved one. It can be very reassuring for them to find that much of what they are feeling and experiencing is common, and that they are not alone.
Phyllis Tuckwell was offered up to twenty free lunches by the manager of the local restaurant, Alex Barry, and fifteen members of the support group went along, with four Phyllis Tuckwell volunteers and a member of staff.
"We would like to thank Mr Barry and all those at the Aldershot Harvester pub for their very kind offer, and for providing us with a delicious meal in a lovely setting," said Tony Carpenter, Head of Marketing and Communications at Phyllis Tuckwell. "Social events such as this are very important to those who have lost a loved one, and the group really appreciated the opportunity to share a meal together at this festive, but often difficult, time of year."
Phyllis Tuckwell provides supportive and end of life care for patients and families facing cancer, or another serious progressive illness, in West Surrey and North East Hampshire. Every day it supports over 250 patients and relatives in their own homes, in the community, at the Hospice in Farnham and at the Beacon Centre in Guildford, through a mix of medical care, nursing, therapies, counselling, social work and practical support. If you would like to find out more about the support Phyllis Tuckwell offers the relatives and carers of its patients, please visit our Patients and Families Services web page.
Caption: Phyllis Tuckwell's Bereavement Support Group with Harvester staff in Aldershot.
– Ends –
Notes for Editors:
For press enquiries and alternative pictures contact: Jen Barnes at Phyllis Tuckwell on 01252 729433 or email jen.barnes@pth.org.uk