St Austell Brewery launch Mena Dhu Cornish Stout
9th November 2015
... Comments
---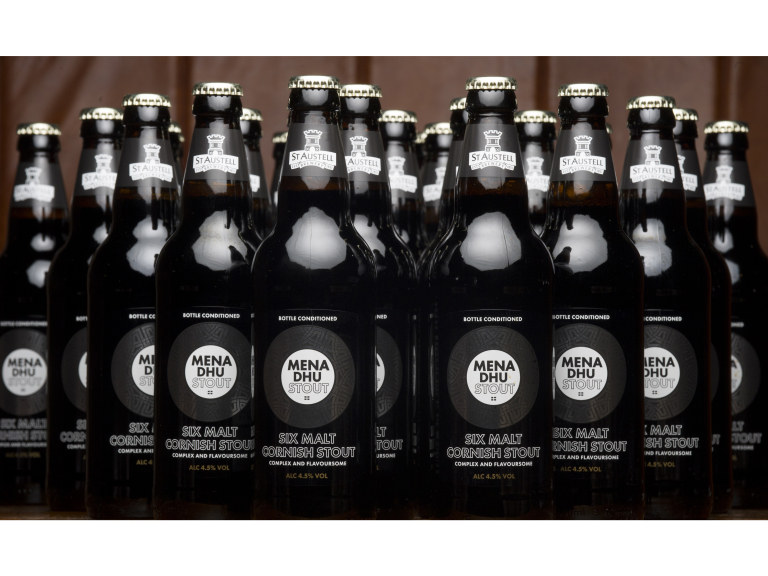 Mena Dhu - its Celtic name meaning Black Hill in Cornish - is a unique blend created from six varieties of malt. Complex and flavoursome, the brew is also deceptively light and refreshing with a subtle oak smoked aroma, hints of dark chocolate on the palate and hues of liquorice to finish.
The 4.5% new stout launched by St Austell Brewery will be available in draught and in 500ml bottles (bottle conditioned). The initial distribution will be in the South West, with the brewery aiming to make Mena Dhu available nationally very soon.
Roger Ryman Brewing Director and Head Brewer for St Austell Brewery, said: "I am really excited to be introducing Mena Dhu stout to our range of award winning beers.  Mena Dhu completes our range of beers such that we can now offer a beer to suit every palate and occasion, be it a clean crisp lager, bright and zesty IPA or a rich and wholesome stout. 
"Mena Dhu is our first dark beer for some time and I am delighted with the balance, flavor and presentation of this beer.  Mena Dhu is a complex and satisfying brew that puts others in the dark!''
The recipe for Mena Dhu uses six malts: pale, crystal, chocolate, malted oats, smoked malt and roasted barley; with one variety of hops called English fuggles. A subtle addition of liquorice root has also been added to give extra complexity.
The Samuel Jones in Exeter serves a constantly changing range of 18 craft ales from around the world including the USA and New World.
The historic venue in Exeter's waterfront district was transformed by St Austell Brewery a year ago into a modern, industrial-feel pub and restaurant.
St Austell Brewery has been brewing real ale in Cornwall since 1851, and runs 169 historic and picturesque pubs, hotels and inns across Devon, Cornwall and Somerset.