PARAMEDICS' MIGHTY HIKE FOR CHARITY
15th July 2016
... Comments
---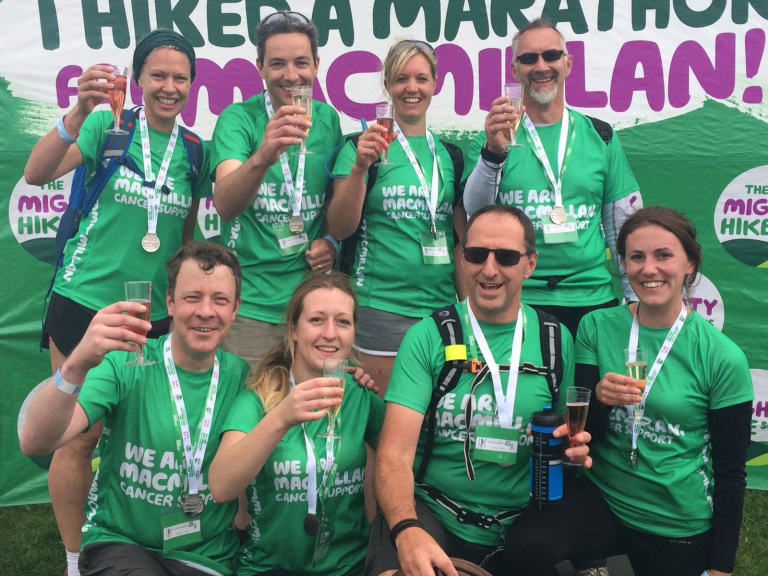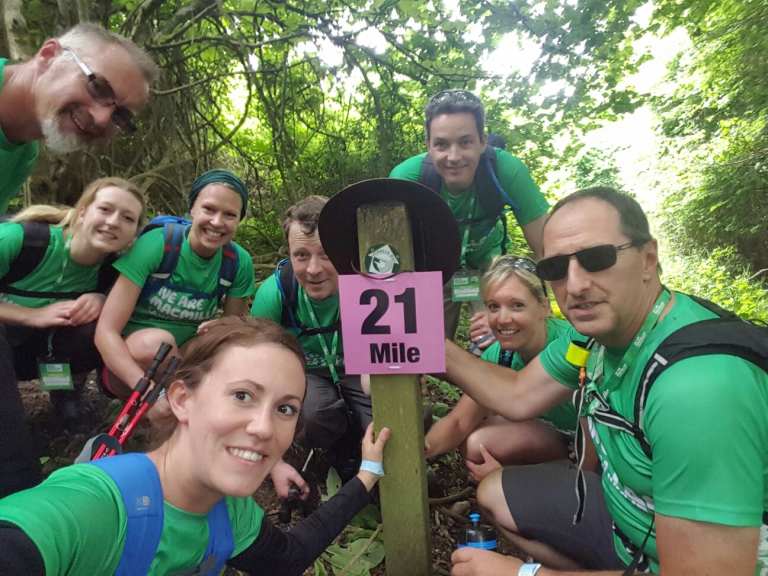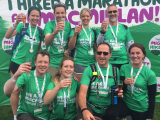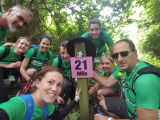 The team of eight crossed the finishing line at Corfe Castle with arms linked after setting out to cover the 22 miles some 9 hours earlier from Weymouth.
For one member of the team, the achievement heralded a particular milestone. Caroline Shipway, from Weymouth, was diagnosed 8 years ago with breast cancer and the side effects of the disease and treatment left her struggling with energy levels. "I was a full-time paramedic before being diagnosed at the age of 27 with breast cancer and the combination of surgery, chemotherapy, radiotherapy and hormone treatment left me unable to continue to work as part of an ambulance crew. The recovery has been long and it was only this year that I have well enough to take on a challenge like this. The hike was very tough, but I'm very proud to have completed it and to have helped raise money for Macmillan, who do so much to support people affected by cancer. It's my way of giving something back. I now work giving clinical advice to crews from the Trust's clinical hub (control room)."
Louise Pennington, Macmillan cancer care development facilitator at the Trust organised the team and said, "The mighty hike was just that – up and down hills along the coast. It was a great experience and achievement and we stuck together as a team the whole way."
Macmillan Cancer Support and South Western Ambulance Service are working together to develop training and support for ambulance crews and other staff to equip them to treat cancer patients they attend with the most appropriate care. Macmillan and SWASFT recognise that cancer patients can benefit from specialist cancer care services when paramedics respond to emergency calls. This can result in cancer patients avoiding the need to go to hospital at that time, by giving them treatment and support in the home. This project supports the Trust's right care, right place, right time initiative. Macmillan is investing £736,000 in the project, funding specialist posts to create and deliver the training and support for Trust staff.
ENDS
Photography:
Image 3307, the paramedics at the end of their hike, left to right:
(back row): Louise Pennington (Macmillan cancer care development facilitator), Pete Weeks (learning and development officer), Caroline Shipway (clinical supervisor), Bryan Steele (driving training officer).
(front row): David Sale (learning and development officer, commercial training), Joanna Hernandez (learning and development officer), Martin Robinson (learning and development officer) and Katie Richards (clinical development officer/paramedic).
Image 3308: The team at mile 21, nearly there!