New Motorbike for the Fire Bike team
3rd April 2017
... Comments
---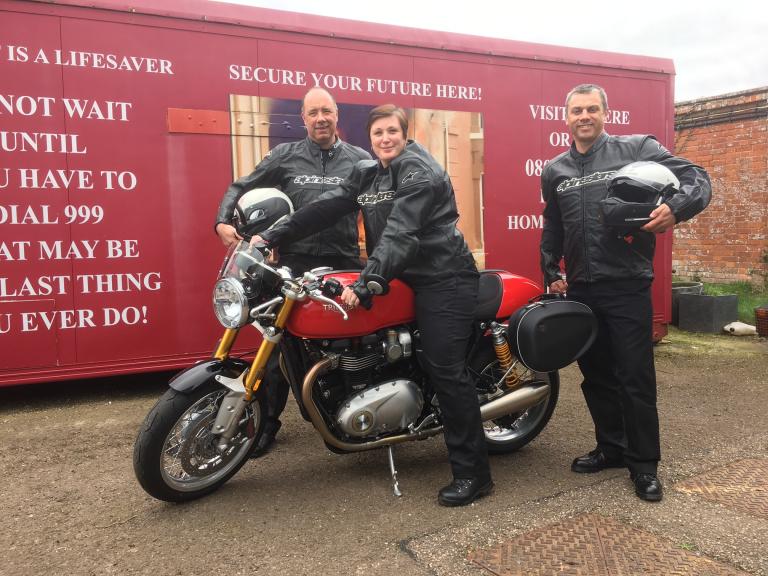 Devon & Somerset Fire & Rescue Service's bike advocate team have taken delivery of a new Triumph motorbike. The bike is part of the services road safety educational toolkit for educating and raising awareness with bikers.
In order for the Fire Service to work effectively with the most at risk groups, they have vehicles which help them interact with drivers of all ages in a way that is more meaningful for them. The Fire Bike team have expert knowledge in bike safety and are able to take the motorbike directly to the audience and interact with driving groups across the counties.
The motorbike will assist in getting up close and engaging with motorcyclists at general community events and shows or at specific motorcycle events. Such as 'bike meet's' and the very popular 'Biker Down' workshops comprising of three modules: Scene Management, First Aid and The Science behind being seen.
The main topics covered are motorcycle safety, rider engagement and collision reduction as motorcyclists are roughly 38 times more likely to be killed in a road traffic accident than car occupants, per mile ridden.
Advice for Bikers
Riding defensively makes you less vulnerable. Make sure you:
anticipate the actions of others
are alert and observant
can slow down and stop if the unexpected happens
position yourself in the safest and best place to maximise your visibility of potential hazards
take a 'lifesaver' glance over your shoulder before carrying out manoeuvres, so you know where others are and what they're doing
Wear the right gear
Fall off your bike and tarmac will shred through your jeans in seconds. Wearing the
right gear is just as important to your safety as servicing your motorcycle and
knowing how to ride it.
Wear bright or florescent gear during the day and reflective gear at night
Bikers must wear a protective jacket, gloves, boots and trousers
Choosing the right helmet could help save your life
Speaking to car drivers
In addition to this Devon & Somerset Fire & Rescue Service also engage with car drivers to encourage them to look out for motorcyclists. Collisions involving motorcyclists are out of proportion to their presence on the roads
Here are a few simple ways of avoiding crashes with motorcyclists:
Look carefully for motorbikes when you pull out at a junction. If you're approaching a junction, look out for motorcyclists pulling out too.
Keep your distance. Driving too close can intimidate a less experienced motorcyclist.
Check for bikes when changing lanes.
Remember your blind spot.
Parked cars or large vehicles can obstruct your view of a motorcyclist.
Motorcyclists might pass you on either side
Double-check for motorcyclists, whether you're turning left or right.
Check for motorcyclists before opening your car door - and ensure that your passengers do the same. When you pull away, look specifically for motorcyclists as they can accelerate faster than cars.
The bike was supplied by local bike retailer Bridge motorcycles that assisted us in receiving support from Triumph UK.