CONTRACTOR ON SCHEDULE FOR INITIAL PHASE OF COLLEGE MASTERPLAN
Independent Devon Contractors, appointed as the main contractor by Exeter College on its new £2.3m gymnasium and state-of-the-art 'New York'-style dance studio, are on schedule to complete in spring 2019.  The impressive extension to the Sports Hall in Victoria Yard is part of the initial phase of Exeter College's proposed £70m masterplan for its city-centre sites.
The project was procured through a two-stage tender process and Exeter-based Devon Contractors are working with local architectural practice, Grainge Architects who are located on the Quay.
Steve Campion – Exeter College Vice Principal said: "Working with local companies is important to us and reflects on the growth and prosperity of Exeter. Devon Contractors were appointed as the main contractor because of their proven track record and we have worked successfully with them on other college projects."  
"We're pleased with progress so far and have been really impressed with the site team for their dedicated approach to the project.  From the beginning it's felt like a partnership, and they make the most of the site, keeping it clean, tidy and safe.  Despite the recent adverse weather conditions, the project feels on track, if not ahead of schedule, which is all really positive ahead of planning for a new academic year."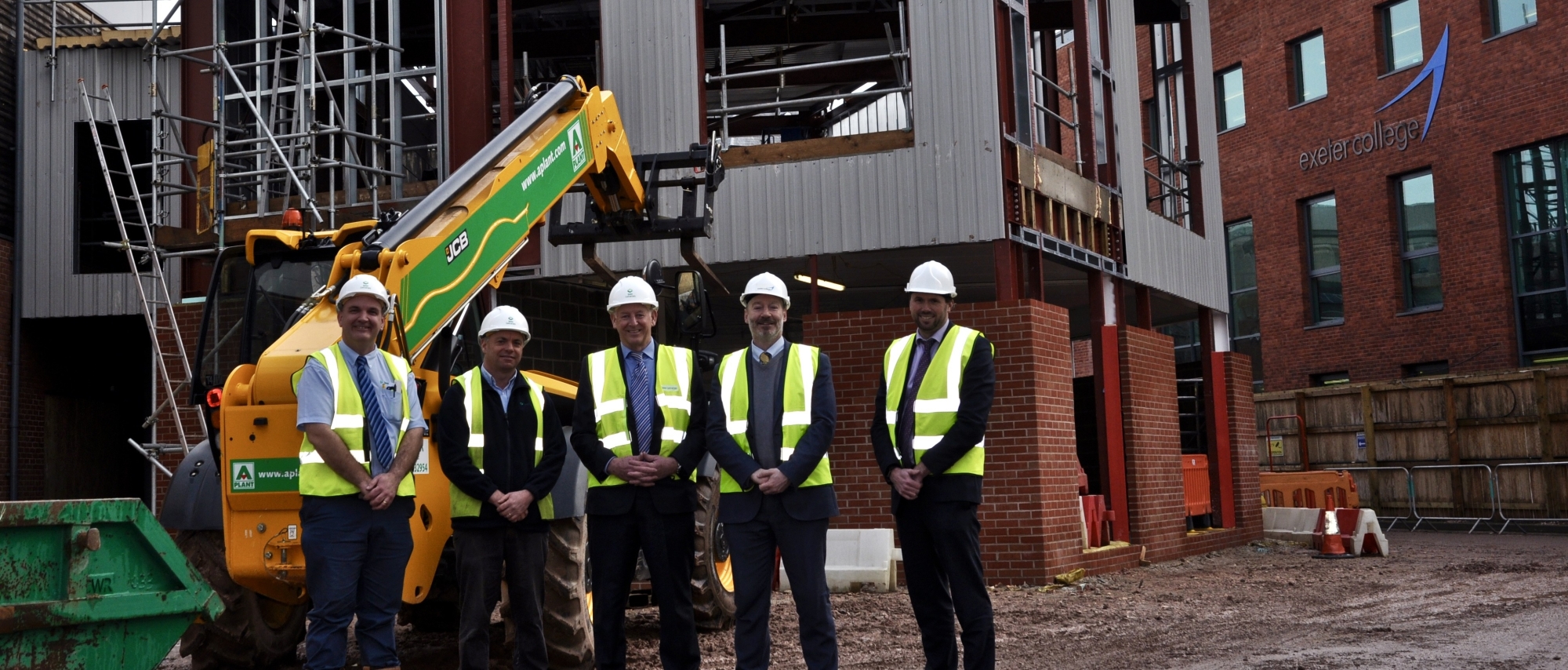 Simon Lawrence – Contracts Manager, Devon Contractors said: "We are delighted to be working with Exeter College and being part of this exciting initial phase of their ambitious Masterplan.  It's a tight site and there are a few challenges which we will overcome, the main one being minimising disruption to the students who are currently taking their exams."
Each floor of the two-storey building is a generous 300 sq .m. The new dance studio on the first floor will have large mirrors and hi-tech flooring as well as two spacious classrooms for lectures and dance theory. On the ground floor will be the large gymnasium housing a variety of high-quality training equipment, as well as a dedicated room for 'spinning' classes. Once completed, vehicle access will be reinstated to the neighbouring Exeter College nursery and the remaining college parking will become accessible again."
John Laramy – Exeter College Principal and Chief Executive, comments: "This is a very exciting project for the College. A group of students are currently in New York to give them an early view of what a New York-style studio looks like.  We are also delighted to announce that in April, for the second year running, our rugby team will be representing England in the Under 18's World Cup Tournament in Japan.  Our students will be up against the best teams from Australia and New Zealand, and the new gym will help to support these elite athletes." 
He adds: "It's a very challenging time for the public sector and Exeter College is only one of a few colleges making investments from its own reserves to enhance the student experience.  With Exeter selected as a pilot for Sport England's new approach to building healthier, more active communities across the country, our new facilities align closely with the focus on health and wellbeing for staff, students and people who use the college – it can only be a good thing for Exeter." 
Peter Alderson – Construction Director, Devon Contractors concludes: "I'm very proud of my team and know that they will deliver an excellent project.  We are expecting to handover the new facility to Exeter College on time, to enable the students to benefit fully from these fantastic new amenities."