Devon Air Ambulance
16th November 2013
... Comments
---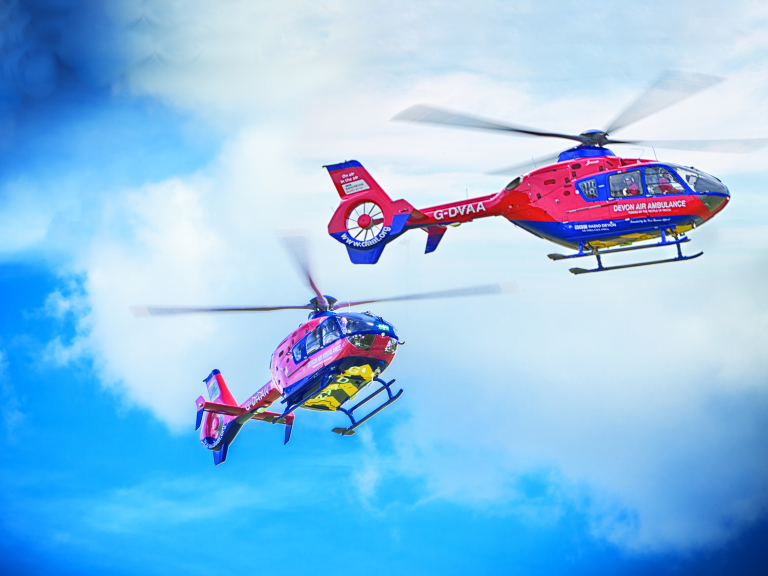 No day is the same for Devon's Air Ambulance crews and yesterday (13 November) was no exception.
Two calls came in within 8 minutes of each other, to the South Western Ambulance Service Foundation Trust's 999 emergency control room, both calls being dealt with by HEMS (helicopter emergency medical services) dispatcher, Paul Holmes part of a specialist team partially funded by Devon Air Ambulance Trust.
The North Devon based aircrew were deployed straight away to a trauma related injury, when an adult male (builder) had fallen from a height of approximately 15 feet, suffering unknown injuries.  Very shortly thereafter a second call came in reporting that an adult female was suffering from anaphylactic shock after being stung by a bee, also in need of time critical assistance.
Quick thinking HEMS dispatcher Paul Holmes immediately diverted the North Devon helicopter to the medical emergency, realising the helicopter was at that time almost over the incident.    He then immediately dispatched the second charity funded aircraft to attend the builder in Holsworthy.   This quick thinking enabled the patient suffering from anaphylactic shock to be treated within 4 minutes of the 999 call being received – very reassuring for not only the patient but those with her.
Nigel Hare, Operations Director of Devon Air Ambulance Trust said "Being able to provide the best possible patient care to the community we serve is essential and this is just one example of where it works at its best."
Nigel added "Due to patient confidentiality, the Charity often doesn't know the patient outcome unless they are contacted.  What we do know however is that having specialist HEMS personnel working at the 999 control room, as an essential part of our operational team ensures patients suffering time critical conditions receive the assistance of our service in the shortest time possible. With Devon being such a rural county, being able to get the right care, at the right time, to the right place really makes a huge difference."