Bank Fines Celebrated by Minister at Air Ambulance Reception
13th December 2016
... Comments
---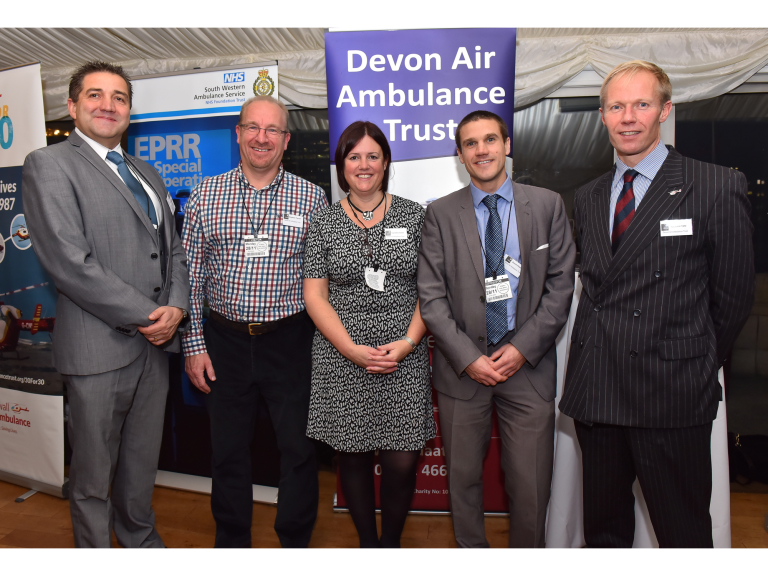 A reception held by the All Party Parliamentary Group for Air Ambulances (APPGAA) took place on the House of Commons Terrace, Westminster on 28 November 2016. The event, hosted by Chairman of the APPGAA Jim Fitzpatrick MP for Poplar and Limehouse, gave members of both Houses of Parliament the opportunity to meet with representatives from air ambulance charities and ambulance services.
Jim introduced Rob Wilson MP, Minister for Social Society who thanked the APPGAA for all their hard work before addressing the audience.  Rob highlighted the excellent outcome of the Autumn Statement last week where air ambulances were a major beneficiary in being awarded £10.8 million from the banking fines fund (LIBOR).
Rob Wilson MP said: "Air ambulances across the UK have grown to play a key role in our emergency services response capacity. The latest award of £10.8 million is in addition to the £24 million previously allocated in previous statements, however there is a possibility that these funds will run out in the not too distant future.
"The air ambulance network needs to consider not only how to continue saving lives but also ways to enhance the network so that they can continue saving lives into the future.  It is making great use of their 2,500 volunteer community in many different ways. The UK is the second most generous nation in the world donating £11 billion to good causes. My goal is   to create an environment so that the voluntary sector can create a sustainable future. The public must trust that their fundraising is going to great causes and you have my continued support as the Minister of Social Society."
Caroline Creer, Fundraising Director of Devon Air Ambulance and Chair of the AAA Communications Subcommittee said "We were pleased to meet some of our Devon MPs at the reception and delighted at the support received.  Although we are very much looking at the best practice and support in Devon it's also essential for us to be able to play an active role in our unique community across the country. The recognition that Central Government affords us by this parliamentary group gives greater visibility and enables us to raise our industry's profile."
"The APPGAA's annual reception is an important date in our calendar and an opportunity for the community to come together and meet with members of Westminster to highlight our successes and discuss our Key Issues."
Jim Fitzpatrick MP brought proceedings to a conclusion with a final message of thanks: "The APPGAA is here as your champions and your advocates in Parliament. Keep providing the amazing service that you do for our constituents; without you, many of them would not be around."
Photo: Left to right – Nigel Hare (Operations Director – DAA), Stephen Tyrrell (Trustee – DAA), Caroline Creer (Fundraising Director – DAA), David Hawes (Finance Director – DAA) and Richard Tate (Pilot – DAA)