Each week we will be updating this blog to bring you great local events in Cardiff, from fun family days out, sporting events, business networking events, charity and community events, to music and entertainment, and much more! 
thebestof Cardiff event guide for great local events.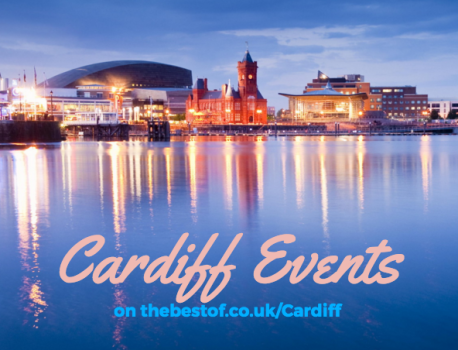 There are some great events happening in Cardiff this week
Check them out!
Monday 14th August - Sunday 20th August 
Visit the Henro Exhibition at Dyffryn House, Monday 14th August 12pm-4pm
Touch fossils and learn what noises dinosaurs made at the Baby Dinosaurs Family Workshops, Tuesday 15th August 11am-5pm
Get information towards digestive relief with Zaina Zahed, Wednesday 16th August 4.45pm-6.45pm
Celebrate your A Level results at Nathan Dawe / CARDIFF / A-Level Results Night, Thursday 17th August 10pm-3pm
Bring a blanket and enjoy a late night with Dyffryn Gardens, Friday 18th August 6pm-8pm
Take part in the Cardiff Park Run every Saturday and improve your health and fitness - click here for more info 
There's also a junior one for the kids! click here
Meet Medieval Knights at the Grand Medieval Melee, Saturday 19th August 10am-4pm
Come along to St Fagans and have some fun at the Police Awareness Activity Day Sunday 20th August 10am-5pm 
If you're looking for tickets to a great night out you can GET YOUR TICKETS HERE 
Keep checking back to our blog every week for updated events in Cardiff 
For all events happening this week and in the upcoming weeks to come please check out the full events listing on our
events section here 
Hosting your own event? Get in touch by email to cardiff@thebestof.co.uk 
We can promote charity and community events for free!