Ulverston's Eco Fair
23rd September 2019
... Comments
---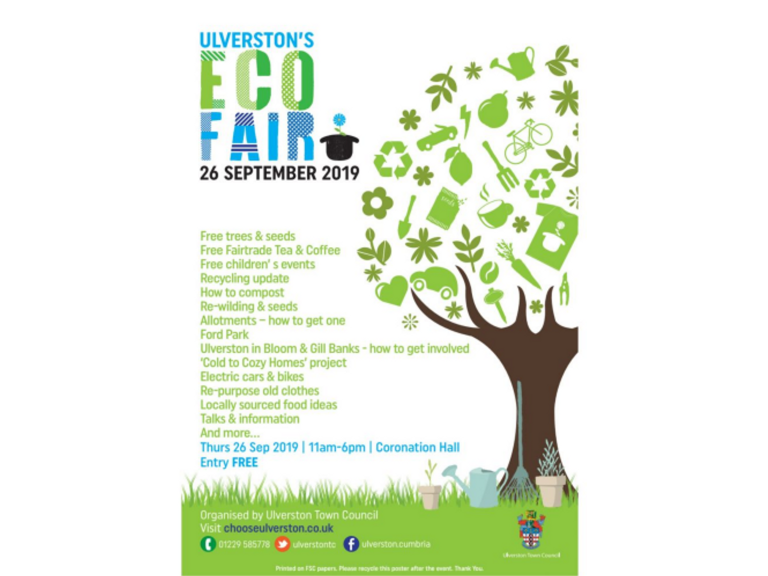 This Thursday (26th September) sees the inaugural Ulverston Eco Fair takes place at The Coro between 11am – 6pm
It's a fantastic, family friendly free event and everyone is welcome to come along and join in.
The Coro will be packed with exhibitors and will also feature talks throughout the day, raising awareness of the climate change emergency and about living sustainably. There's plenty for the children to enjoy too, with children's entertainment and activities taking pace all day.
Take a look at some of the amazing exhibitors:
Outside the Coro:
• Myerscough's Hybrid Ford Mondeo
• Barton Townley, the all-electric Nissan Leaf
Inside the Coro:
• CAFS Cumbria Action for Sustainability. Cold to Cosy Homes - a new grant for people to improve. their homes and make them warmer.
• Free Tree Stall/ SLDC tree officer.
• Ford Park – Sustainable Ford Park events and produce
• Green Ulverston – sustainability wall.
• Master Composters. How to make your own fantastic compost
• Velo Bikes – Ever thought of an electric bike? – Velo have a full range
• The Bike Project. How to recycle and repair your bikes
• Little Sansook Ulverston Vegan Bed and Breakfast demonstrate delicious home-made vegan food and produce.
• Homes for Ulverston. Plans for Robinsons Brewery, sustainable housing for local people.
• Cut the Wrap. Goods, advice and products to help you be more sustainable.
• St Mary's Hospice. How to repurpose old clothes – withy many items for sale!
• Neville Nice Lollies
The event will also feature an open Mic on stage where musicians and schools can come and give their message about the climate change emergency and how to live sustainably. Ulverston's Retirement Band will take to the stage from 11am.
Free trees and seeds will be on offer on the day,  plus free tea and coffee too.