Ulverston Open Gardens 2018
21st June 2018
... Comments
---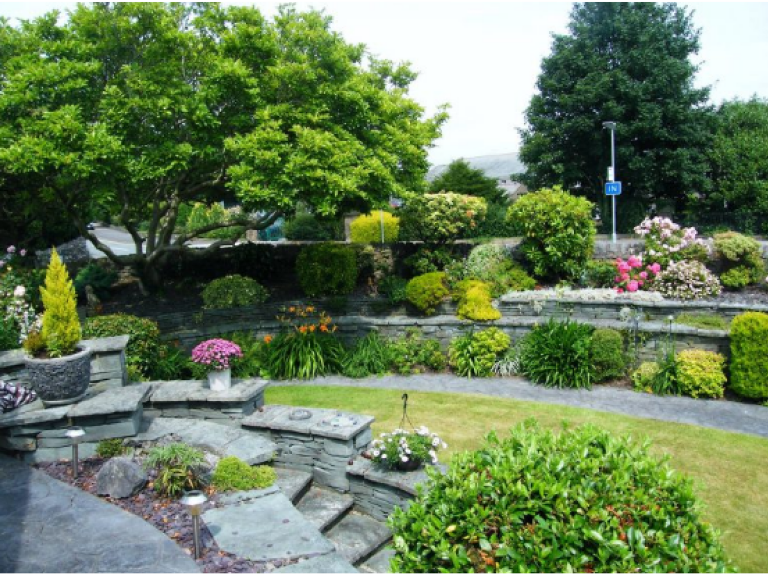 The abundance of colour, contrast, natural beauty and gardening excellence that is Ulverston Open Gardens Weekend takes place on Saturday 23rd and Sunday 24th June.
It provides you with the opportunity to visit and wander around 16 gardens dotted around the town and see for yourself how fabulous – and varied, gardens can be with some thought and dedication (and a lot of hard work)
"So where can I find these gardens?" I hear you cry. Well here's the list of the gardens  and a little bit about each one:
11 Oubas Hill, LA12 7LA – Janet and David Parrat. A varied hillside garden with views towards Morecombe Bay. There is mixed planting, a small orchard and a summerhouse; and a greenhouse with various fruits and vegetables. Janet is a potter with items for sale. Refreshments available.
14 Oubas Hill, LA12 7LA – Pat and Barry Bentley. A hillside garden with steep meandering pathes, densely planted beds, ponds, patio and summer houses. A terraced front garden with vegetables, fruits and herbaceous areas. Children's quiz.
16 Oubas Hill, LA12 7LA – Vicky and Phil Allan. A well laid out garden with lawn, shrubs and trees.
Hamilton Grove, Oubas Hill, LA12 7LB – helen and Martin Cooper. A larhge mature, structural and sloping garden from a terrace, through herbaceous perennial beds, to the now dry feeder for the Ulverston canal. Collection of scented-leaf pelargoniums. Refreshments available.
The Glade, Newlands, LA12 7QG – Paul and Alev Stoller. First opening. 1km east on A590 from Booths. A medium sized garden packed with ideas which will surprise; adjacent to the Newland iron Furnace. Refreshments available. Please don't park at the coal yard.
 51 Daltongate, LA12 7BE – Angela and Ian Hutt. A medium sized wildlife friendly garden with a lovely wild flower plot. Refreshments available.
22 Victoria Park, LA12 7TT – Pat and Ian. First opening. Small garden, overlooking the churchyard., with raised beds, pots and water feature. Constructed over 4 years and winner of the 2017 Charter Festival small contemporary garden category.
Foxwood, Mowings lane, LA12 7DD – Lynda and Brian White. A large garden with all year round interest, pond and vegetables. The work of a professional gardener. Access via footpath from Sun/Star Street next to Health Centre (a good climb, but worth it!) Parking at house for those with walking difficulties only (top of Mowings Lane)
46 Soutergate, LA12 7ES – Brenda Caton. Established terrace garden with many unusual plants.
4 Union Place, LA12 7HS – Clifford and Kathleen Bradley. Small forecourt garden with hanging baskets and window boxes.
1 Grasmere Road, LA12 9BY – Wayne and Jude Evans. A low maintenance garden with a Mediterranean and quirky feel. A good example of how to maximise small space. The work of a professional gardener.
44 Rowan Avenue, LA12 9HZ. Pat and George Appleton. A small pretty wildlife garden. Refreshments available.
14 Central Drive, LA12 9DL – Sharron and Brian Gillam. A medium sized hidden sloping flower garden with waterfalls.
4 Hillside Road, LA12 9LB – Kay and David Forshaw. A sloping garden with herbaceous borders, rockery and views over Ulverston.
104 Birchwood Drive, LA12 9NY – Jane Parker. Richly planted corner plot, with terraced roadside vegetables, front garden and delightful secret back garden. Wildlife friendly.
5 Appletree Road, LA12 9JR – Rachel and John Tarr. First opening. Unexpected, family garden with mature trees, herbaceous borders, vegetable plot and patio area. Refreshments available.
All gardens will be open from 10am on both days – with last admissions at 4pm. All gardens taking part will be marked with a large sunflower sign.
Admission to visit all the gardens is £3 per adult, children can visit for free. You can purchase tickets on the day at any of the 16 gardens.