The Support Hub Barrow and District
29th March 2020
... Comments
---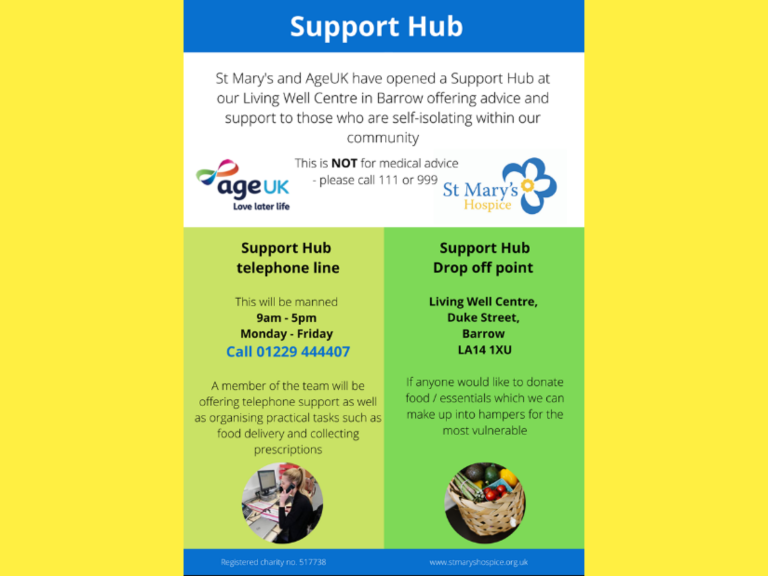 St. Mary's Hospice and Age UK have teamed up to open a new support hub, dedicated to offering support and advice to those who are self -isolating in our community.
The Support Hub will be based at St. Mary's Living Well Centre on Duke Street.
The aim of the hub is to provide advice and support to the most vulnerable, elderly and housebound members of the local community, especially those who have no support network or family to call upon.
The Support Hub telephone line will be manned Monday to Friday between 9am – 5pm. A member of the team will be on hand to offer telephone support and to organise practical tasks such as food deliveries and collecting prescriptions. For support please call 01229 444407
Please note that this is not a medical helpline. For medical advice you still need to call either 111 or 999
The Living Well Centre is now a drop off point for food donations and essential items. These kind donations will then be made into food hampers that will then be distributed to the most vulnerable across the local community.
To stop any inappropriate requests from people who are able to leave their homes and are usually fit and well, please stop and think – 'do I have a relative, friend or neighbour who can help me?' if you have then please ask them to help with shopping and collecting medication first.
If you would like to make a donation to The Support Hub's JustGiving page and help support your local community -you can do so here: https://www.justgiving.com/ageukbarrow?fbclid=IwAR2gyi1YxVIyno8tNxc5DydLcNgJHAJvepeIwD66f4Xb6jEssqDdc8KwM4s