Live Theatre is Back!!
4th May 2021
... Comments
---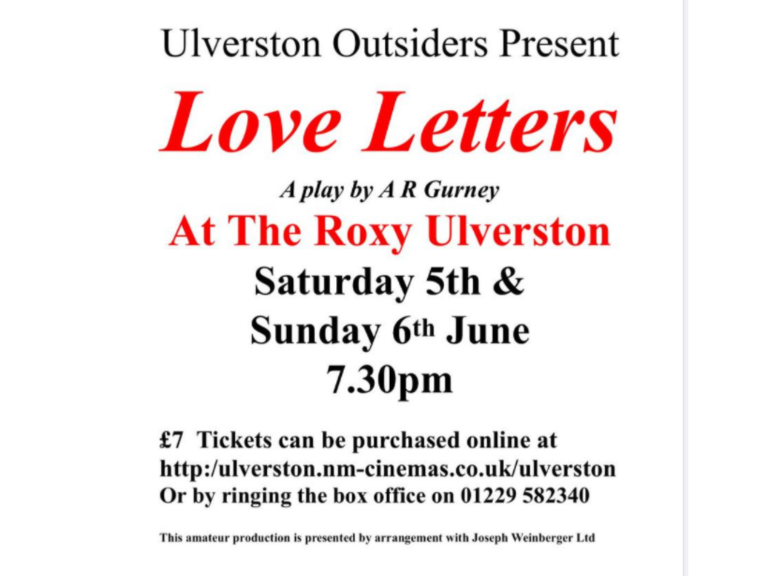 One of the last things that I did before lockdown was visit the Big Kings in Ulverston to watch a run through of Ulverston Outsdiders production of The Crucible by Arthur Miller. The cast were putting the final touches together and polishing their performances before taking the play to The Coronation Hall the following month.
It was fantastic , and I couldn't wait to buy tickets for what promised to be a spectacular performance.
Then Covid happened and unfortunately the show went the same way as every other event for 2021 and was cancelled.
Well, now that restrictions are easing and there seems to be a sense of some kind of normality returning, The Outsiders are returning to The Roxy to bring you a live production of Love Letters – a play by AR Gurney.
The play centres on 2 characters, Melissa and Andrew. They sit side by side at tables and read notes, letters and cards which, over 50 years they discuss their hopes, dreams, ambitions, disappointments victories and defeats that have passed between them throughout their separate lives.
I can't wait to experience live theatre again, and the Outsiders always pull out the stops and deliver a wonderful performance – so this is definitely one not to be missed!!
The play runs from Saturday 5th June – Sunday 6th June and starts at 7.30pm
Tickets are amazing value at £7 each and can be purchased online at http://ulverston.nm-cinemas.co.uk/ulverston/out-now or by phoning the box office on 01229 582340