Be part of Barrow AFC's Playoff Push
2nd April 2017
... Comments
---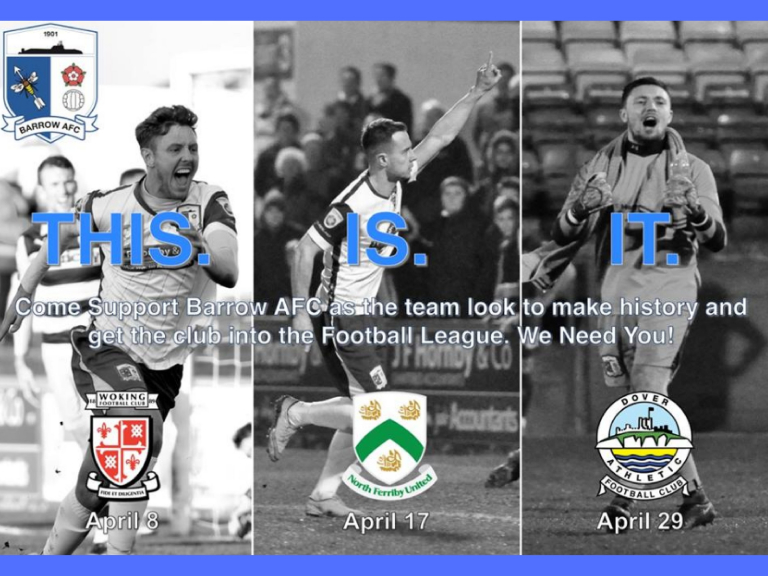 It's been a long, hard fought campaign for the bluebirds this season. The club went on a record breaking unbeaten run; they've had a decent run in the FA Cup, and they're also in with a chance of reaching the playoffs too.
With just a handful of games remaining till the end of the season the club are within touching distance of claiming a top six finish.
The lads have been in great form for most of this season and for their final 3 home fixtures they need as many fans cheering them on from the stands as possible.
With this in mind, the club have introduced a fantastic ticket package offer .
If you buy the ticket package (which covers the final 3 home fixtures) before noon on Friday 7th April you not only get a discount on the 3 matches – you also get a voucher for a half- price ticket for the home leg of the playoffs (should they qualify)
If you purchase tickets online (the link is below) then all you have to do is print off your order form or download the Eventbrite app and come down to the club shop to pick up your tickets and voucher.
Season ticket holders and Supporters Trust members automatically qualify for the discount on the potential playoff match.
You can purchase tickets online  https://www.eventbrite.com/e/barrow-afc-push-to-the-playoffs-tickets-33274893101?aff=affiliate1 or come down to the club to pick up your tickets.
So, if you fancy being part of history and help Barrow reach League two, make sure you take advantage of this fantastic offer!