Barrow Street Football Festival
11th June 2018
... Comments
---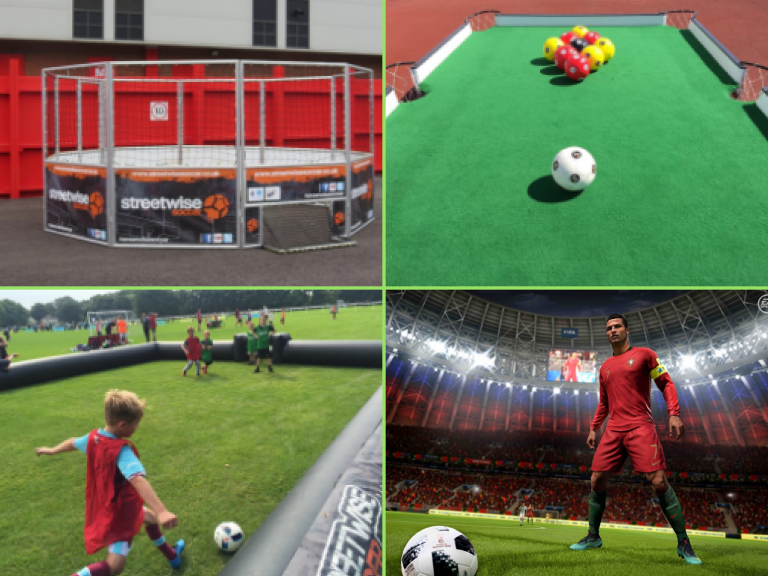 From 11am on Saturday 16th there'll be a host of events and activities suitable for both children and adults alike – the perfect way to kick off the weekend!
Barrow BID have teamed up with Barrow AFC and Pulse Soccer to bring this fabulous Festival of Football to the streets of Barrow town centre, and the GAME Store in Portland Walk will be getting in on the fun too.
Sounds great doesn't it? Here's what you can expect on the day:
The Panna Cage: 
This exciting activity is a 1v1 arena with the main goal being that you 'panna' (put the ball through your opponent's legs), points are scored for each 'panna'. Matches will last for no more than two minutes with some winner stays on time slots. Players will also get the chance to take on England International Georgia Stanway, local professional Alex Newby and some of the Barrow AFC Community Sports coaches.
Football Pool:
Foot Pool is a combination of Football & Pool – a game which has taken the UK events market by storm in recent years. Football Pool can be played by people of all ages and abilities.
The game is played on an 12ft x 8ft Foot Pool table which you stand on and use your footy skills to pot the balls!
Come along to Portland Walk on Saturday 16th June to give Football Pool a go.
3v3 Matches & Skills Competitions:
A 3v3 inflatable football pitch will be set up at Barrow Town Square by The Forum. Teams of 3 players can turn up and play matches throughout the day.  Matches will be 3 minutes in duration to ensure a quick turnaround of fast paced games. Suitable for juniors or adults.
FIFA Competitions:
The GAME store located in Portland Walk will be hosting a range of FIFA based games and competitions for all ages. Starting from 11am, you will be able to pop along to GAME and take part in some skills games or go head to head with your friends. 
So much taking place; make sure you're part of this awesome event, come along to Barrow town centre on Saturday June 16th – you'll have a ball!