Pancake Day - the recipes you haven't tried yet...
27th January 2015
... Comments
---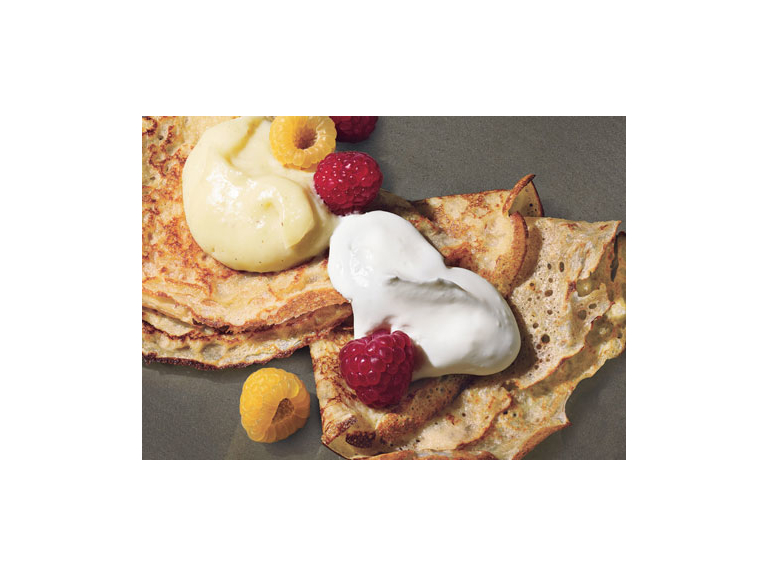 It seems there are three bog-standard pancake recipes. The lemon and sugar, the maple syrup, and the chocolate sauce/spread. Whilst these are all tried-and-tested, delicious pancakes, we're wondering what else Shrove Tuesday has to offer.
This year pancake day falls on Tuesday 17th February, which isn't that far away (yippee!). So, it's best to get planning. We've hand-picked our top 5 alternative pancake recipes that we're going to try, and there's something for everyone!
All recipes serve 4 people.
1. Custard Pancakes

What you need:
Instant pancake batter to make 4 pancakes

1 tablespoon of Bird's Custard Powder
How to make it:
Place the pancake batter into a bowl and add the Bird's Custard Powder, mix well.

Make up the pancake batter as directed on the pack and cook off.
Hints and tips:
Fill the pancakes with mixed berries, fold and serve Bird's Custard.

Try filling the pancakes with sliced banana and Bird's Custard, this is delicious hot or cold.

2. Chocolate and Raspberry Pancakes

What you need:
How to make it:
Warm up the pancakes as directed on the pack.

Spread about 4 tablespoons of Ambrosia Chocolate Flavour Custard over each pancake to make a thick layer.

Scatter the raspberries over each pancake and then fold.

Serve immediately.

3. Jam Surprise Pancakes

What you need:
1 quantity pancake batter mix, homemade or shop bought

1 tbsp Bird's Custard Powder

knob of butter

4 tbsp strawberry jam, warmed
How to make it:
Make up the batter mix as directed.

Add the Bird's Custard and whisk until the batter is smooth. Leave to stand for 5 minutes.

Heat a non-stick frying pan over a medium heat and add a knob of butter.

When the butter has melted ladle some of the mixture into the pan. You should be able to cook 2-3 pancakes at once.

When the top of the pancake begins to bubble, turn it over and cook until both sides are golden brown. Repeat until all of the batter is used.

Serve warm with a drizzle of warm jam.

4. Banoffee Pancakes

What you need:
ready made pancakes (or make your own)

bananas, sliced

toffee sauce

Ambrosia Chocolate Custard
How to make it:
Heat up the ready made pancakes as directed on the pack and top with sliced banana.

Drizzle over the toffee sauce and roll or fold up the pancake.

Heat the Ambrosia Chocolate Custard as directed and pour over the pancakes.

5. All Day Bacon and Egg Breakfast Pancakes

What you need:
How to make it:
Mix together the plain flour and salt into a bowl then make a hollow in the centre and add the egg.

Whisk the egg into flour and gradually add the milk until all of the flour is combined and the batter is smooth.

Heat a lightly greased frying pan and pour in enough batter to cover the base of the pan then cook for 1-2 minutes on a medium heat until underside is golden brown. Turn over or flip pancake and cook the other side for a further minute until golden on each side. Continue to cook 4 large pancakes.

Serve each pancake with grilled bacon and place a poached or fried egg on top.