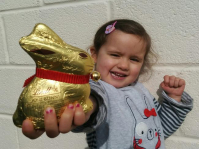 SOMERSET children can hop along to a garden centre in the county next month (April, 2017) and take part in an Easter treasure hunt.
Treasure has been hidden around Monkton Elm Garden & Pet Centre and youngsters can solve the clues on the treasure trail and earn a prize from Monday, April 3 until Thursday, April 13.

Andrew Pitman, Store Manager of the award-winning, independent, family-run garden centre at Monkton Heathfield near Taunton, said: "There's lots of treasure hidden in different locations across the entire garden centre and we are challenging children to find it all for the chance to win a prize. Treasure hunt forms will be available from our reception desk and these include helpful instructions on how to take part.

"Completed forms can be returned to us and those with correct entries will receive a chocolate bunny to take home and enjoy."

The Easter treasure hunt will cost £2.50 per child.
                                                                                                                                                                                               
Andrew added: "The Easter holidays are the perfect break for families to spend some quality time together and we hope everyone has a hopping good adventure taking part in our treasure hunt.

"Once the hunt has been completed, families can stop off at our Elm Tree Restaurant for some tasty food. A children's menu is available as well."

The hunt will take place at Monkton Elm Garden & Pet Centre from Monday, April 3 until Thursday, April 13.

For more information, please call the garden centre, which is located just off the A38 at Monkton Heathfield between Bridgwater and Taunton, on 01823 412381, visit www.monktonelmgardencentre.co.uk, log on to www.facebook.com/Monktonelm or follow the company on Twitter by visiting www.twitter.com/Monktonelm.


*thebestof cannot be held responsible for any changes, amends or cancellations of an event
Contact us: 01823 412381

visit us

Monkton Elm Garden & Pet Centre,
Monkton Heathfield,
Taunton
TA2 8QN​

follow us

This is a live stream from Twitter - not the voice of thebestof!

find us on facebook