CHARD WOMAN CELEBRATES 25 YEARS OF HELPING PEOPLE BECOME LOSERS
20th May 2019
... Comments
---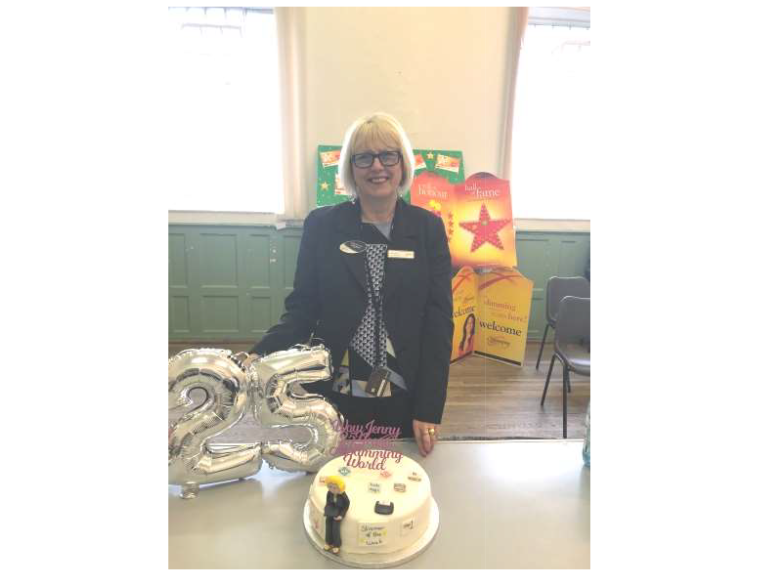 Jenny Curtis is the best example of what determination & desire can achieve.After the birth of her second child ,she tried very hard to lose the weight she had put on ,without success,until she joined Slimming Would.
The result was she lost two stone in 10 weeks & changed her life for ever.She then trained to become a consultant,so she could help others.Now 25 years later she is celebrating 25 years in the role, has achieved a silver Award during her time as a consultant and runs five groups to a high standard. 
She said: "After 25 years I am blessed to still be enjoying my role. I love welcoming in new members and introducing them to our guaranteed weight loss programme, Food Optimising.
"I love seeing people transform in front of my eyes and improve their health and well-being.
"Many members tell me they have reduced or completely stopped some medications which gives me so much satisfaction, knowing I have contributed to improving their lifestyles, whilst teaching them all about good nutrition.
"Slimming World is recommended by the Royal College of Midwives and the Diabetic Society.
During 25 years, her groups have raised thousands of pounds for charity by hosting various activities such as The Big Clothes Throw which raises money for Cancer Research UK and have also regularly donated to Ferne Animal Santuary.
The consultant was given a beautiful silver watch from Slimming World's head office and numerous gifts from her members for her service.Why not pop along to one of her sessions,it may change your life too 
Jenny runs groups on Tuesdays at The Guildhall at 9.30am, 11.30am & 7.30pm and Wednesdays at The Baptist Church Hall at 5.30pm & 7.30pm