Mother & Daughter Combo Dish Up Delights For Caribbean Taste Buds
25th March 2019
... Comments
---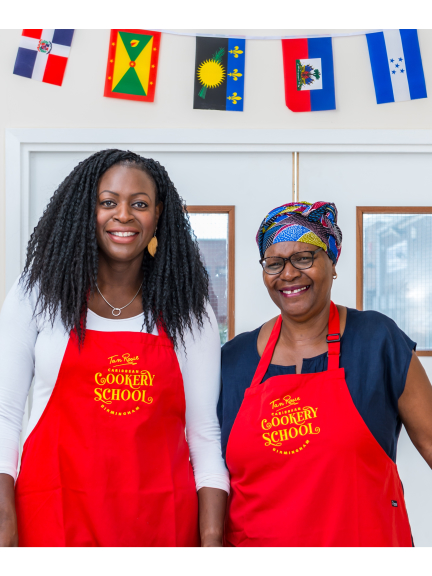 The Tan Rosie is the brain child of mother and daughter combo Monica and Lee taking inspiration
from the Caribbean and their family heritage of Carriacou (pronounced: carry-a-koo) Grenada. They
have been selling their delicious range of handmade Caribbean food products which are vegetarian
and vegan friendly, as well as hampers, rubs, pesto's, chutneys, cakes and fudge for all the family to
enjoy since 2010.
They started from their small kitchen in Birmingham and in 2018 moved to their new commercial
premises in Witton.
It's not just the foodie homeowner that enjoys the Tan Rosie products though, as several top
celebrity chefs also order on a regular basis for their restaurants – especially the Tan Rosie range of
mouth-watering pesto's.
They have a run a very successful pop up Supper Club from Monica's living room in Birmingham for 7
years which led them to write two Caribbean cookery books and inspired them to want to teach
enthusiastic cooks more about Caribbean cuisine.
Tan Rosie launched their new Caribbean Cookery School in 2018 in which it is the first cookery
school of its kind in the city. Cooks will get the chance to learn about variety dishes from many
different islands in the Caribbean to gain a better understanding of the tastes and flavours of this
delicious cuisine.
Veggies and Vegans are not left out! Tan Rosie also have a great selection of tasty plant based
cookery lessons for those wanting to cut out meat and dairy.
Lee said "It's such an exciting time for Tan Rosie and I cannot wait to welcome more budding
Caribbean cooks through our doors. We have already made bookings for a selection of courses
running until the end of the year with lots of enquiries for children's cookery classes too which we
hope to finalise this year."
The Cookery School comes after a successful eight years in business with Lee and Monica travelling
the length and breadth of the country attending food and Caribbean shows spreading the love for
the Tan Rosie products.