Hundreds of Scouts from Birmingham County prepare for Chase Walk 2019
18th March 2019
... Comments
---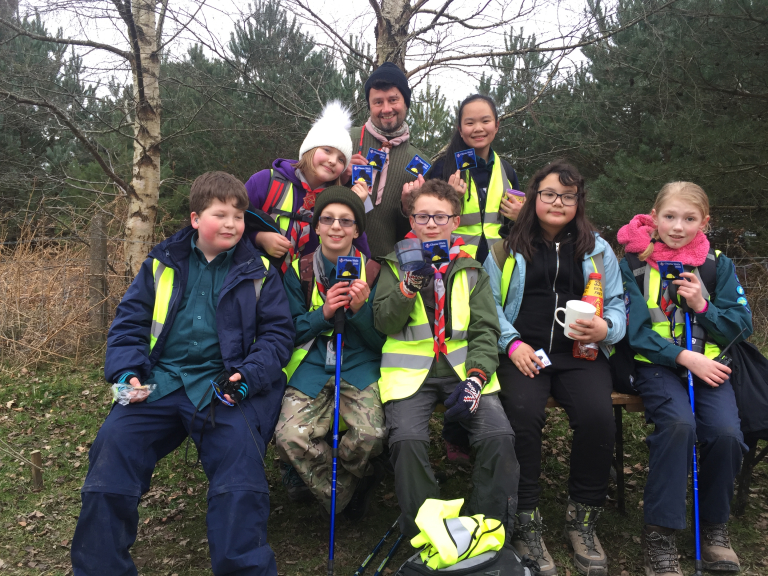 The wild weather is not dampening the enthusiasm of hundreds of Scouts and adult volunteer Leaders who are preparing for the ever-popular Chase Walk 2019 across Cannock Chase on Saturday 23rd March.

  "The Chase Walk comes in two levels" explained Adam Hodson, Assistant District Commissioner for Scouts in Sutton Coldfield East.  "There is the main entry which is approximately 40 miles long and starting and finishing at Beaudesert Activity Centre.  This is for Explorer Scouts above the age of 14 years old, Network and adult volunteer leaders.  There is then the entry for Scouts aged 10.5 - 14 years old which is 13 miles long and which they have to navigate with a map and a compass".  

The main entry across the beautiful Cannock Chase in Staffordshire is for teams of 4 - 7 people organised by the Nationwide Scout Communications Team from Sutton Coldfield Scouts.  This entry, approximately 40 miles long, is open to members of the Scout and Guide movement aged 14 years and upwards.  Entries are accepted from other organisations having their own insurance such as the RAF Air Cadets.  There is a trophy for the fastest team and it is not unusual to see teams running across the route which traverses Cannock Chase and the surrounding canals, lanes and villages.  The main event starts at 6am and teams must complete the walk by 1am the following morning. This is a team event and although members of the team may retire, the remaining walkers must keep together as a team.

  "There  is an alternative walk for Scouts", laughs Adam Hodson.  "This event is for Scouts aged 10.5 - 14 years old and is also held on the same day and sharing the same resources with the main event.  This is the 13 mile walk during daylight hours and teams are between 4 - 8 Scouts.  Teams must travel along the paths and tracks of Cannock Chase to reach various check points."  

The Scout entry starts at 8.45am on Saturday 23rd March and, according to Adam, teams need to be at the start 30 minutes before their allocated start time.  Adam explained that each team is subject to a thorough kit inspection to ensure that each Scout has sufficient waterproofs, warm clothing, food and refreshments plus a first aid kit.  

  "We take the safety of our young people very seriously" said Adam.  "Although every adult Scout Leader is a volunteer we are all trained in first aid.  We do what we do to prepare young people with skills for life through fun and adventure.  We want to put something back into society and make a difference.  These young people are the next generation."   The starting and finishing line for the Scouts is on Marquis Drive and not at Beaudesert Activity Centre.  Scout teams are not accompanied by adults. 

"This is about the young people being let loose and doing it for themselves"  explained Adam, "remembering their training, teamwork and having fun!"   Every Scout that starts the Chase Walk will receive the coveted Chase Walk badge which they can wear on their  uniform.  They also receive an official certificate bearing their name, their team and their walking time.    

"Should a team fall below 4 walkers", said Adam, "then they will be required to walk with another team . This will be the decision of the check point staff.  No adults are allowed.  It is all down to the Scouts` initiative and leadership skills, working as a team and using their training with a map and a compass.  These are skills for life.  It is what we are preparing our young people for as they go through their lives.  It is why Scouting remains relevant today in  a changing world.  It`s about skills for life".  

Adam explained that the Scout entry was a non-competitive walk, unlike the main 40 mile entry for older Scouts aged 14 years upwards and adult volunteer leaders.  "There are no prizes for the first team home" he    said "or times published for the team.  Each check point has a cut-off time to ensure Scouts are not walking during hours of darkness".

   Each walker provides snacks and drinks although there are refreshments at the check points along the course.  Transport to the  finishing line is provided for Scouts if they should retire. 
"For the Scouts` safety" explained Adam, "we monitor their progress 

around the course using GPS tracking and reports from check points."

   Entry for the main 40 mile walk from Birmingham Scout County include teams from Cole Valley, Rea Valley, Sutton Coldfield West, 

Tame Valley as well as Explorer Scouts from the Black Country, Cannock, Lichfield, Stafford, Stoke on Trent and even 3 teams of 

RAF Air Cadets from 481 Squadron in West Bromwich. 
"Well done to Focus Explorer Scout Unit", said Adam "who are

 representing Sutton Coldfield East!"

   Teams in the Scouts` entries list for the 13 mile walk include teams from Lichfield, Solihull, Derby, Cannock and Stoke on Trent. 

"We have a number of teams representing Sutton Coldfield East" said Adam Hodson "and, as Assistant District Commissioner for 

Scouts, I wish them all of the very best!"

 
Representing Sutton Coldfield East are the following:
 (1) All Saints 2 - 17th All Saints Sea Scouts 
 (2) Team 1 - 7th Sutton Coldfield Scouts
  (3)Team 2 - 7th Sutton Coldfield Scouts  
(4) 16th Sutton Coldfield Scouts
  (5) The 11th - 11th Sutton Coldfield Scouts  
 (6) The Wanderers - 5th Sutton Coldfield Scouts  
 (7) C.W. Angels & Demons - 3rd Sutton Coldfield Scouts
   (8) 2nd Wylde Green (6th Sutton Coldfield East)     
   "It is absolutely fantastic to see so many teams from Sutton Coldfield East!" said Adam Hodson.  "According to the entry lists we

 have an amazing 55 Scouts from our District taking part in Chase Walk 2019.  My sincere congratulations to you all!"

   
 Note:  Sutton Coldfield Scouts are recruiting!  Flexible opportunities available. 
If you are interested in becoming an adult volunteer pleas email Ian Henery, Assistant District Commissioner for Development at ihenery@aol.com or go to https://suttonscouting.org.uk