How a referral from YOU can help a local businesses to succeed
When we buy online we all like to read the reviews. It's almost mandatory on websites like Amazon or eBay – always check the feedback before you commit!
We do the same when we are searching for plumbers, restaurants or visiting local attractions. These days there is a website for every industry, where customers can head online and share their experiences and thoughts. But how does that feedback impact on the business themselves?
How often have you left a negative review after you've had terrible service, or told your friends that the restaurant you ate at over the weekend was unpleasant? On the flip side, have you ever logged on to the internet to let everyone know that the clothes shop in town had incredibly friendly staff, or that the website designer you spoke to was knowledgeable and friendly. 
As customers, we are three times more likely to spend time giving negative reviews and feedback than positive ones 
Which surely means that the reviews we read online are skewed towards the negative – or, in other words, for every negative comment you read, should you assume there are three times as many happy customers who didn't comment?
According to the website Reputation Builder:
80% of customers will go elsewhere if they read a negative review.
It takes 12 positive reviews to cancel out the side effects on one negative review.
Why leaving a positive review can help a local business to grow
If your negative comment can turn up to 30 customers away from a business, imagine the power a positive review could have. And for a local business with a much smaller audience than a national brand, this could be the difference between success and failure. By sharing your experience with friends, you'll be helping to send more customers to your local high street.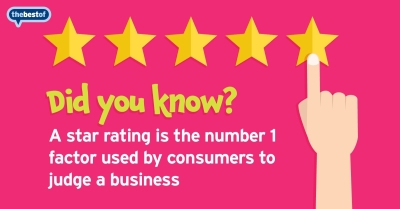 Leaving positive reviews online can have an even greater impact, purely because they may be seen by a far larger audience. 72% of customers find that positive reviews will help them trust a local business more.* And while we are used to seeing reviews for tradespeople and restaurants, every industry can benefit from a happy customer taking time to share their thoughts.
What's more, leaving a positive review can benefit the customer too. After all, if you had great service, and you tell the business they are doing something right, they can use your feedback to keep on doing it. Next time you use their services, you'll trust them to get it right again.
Leave a review now, and support your local business today
Who doesn't like to be given a compliment? It puts a smile on your face, and gives you a lift for the whole day. A great review has that power – for every member of the team. So, now is your chance to help put a smile a few more faces.
Visit The Best Of Sutton Coldfield website today and write a review for a local business that has really given you a great service. Tell them what they did well – and not only will you spread more smiles, you'll be helping to vote for that business in the annual Best Of Awards.
 *Statistics from www.smallbiztrends.com/2017/04/importance-of-online-reviews