ANDREW MITCHELL MP MEETS A DESERVING RECEIVER OF THE DIANA AWARD
15th August 2019
... Comments
---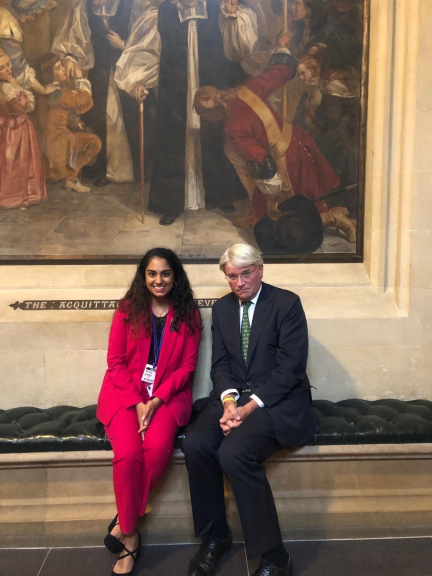 Andrew Mitchell MP met with one of his constituents, Sophia Badhan, when she attended the Houses of Parliament to collect the Diana Award for her efforts in raising awareness for mental health and her contribution as a member of the Think4Brum mental health youth board.
The Diana Awards is the only charity to be set up in memory of the Princess of Wales and is based on the belief in young people and the change that they can bring. Their flagship Award programme recognises the selfless acts of young people through their social action or humanitarian work and works on a nomination basis so that young people demonstrate their suitability with their actions without expectations. Once individuals have received their Award they then have access to a development programme which furthers their skills in leadership and social change.
Andrew Mitchell met Sophia after the award ceremony to discuss her inspiring work, which has involved campaigning about mental health in her school, running workshops, and raising awareness.
Mental health is an issue that Andrew Mitchell cares deeply about and has recently held meetings with the Secretary of State for Health and Social Care alongside Alistair Campbell and Norman Lamb as part of their role in the All Party Parliamentary Group on Mental Health.
Additionally, when our local MP was first elected he was shocked at the lack of provision for mental health in Royal Sutton Coldfield and has since campaigned for better mental health support services in the Town.
After meeting Sophia, Andrew Mitchell said:
"It was an absolute pleasure to meet such an inspiring young woman who, drawing from her own experiences, has campaigned to raise awareness about mental health. She is very much deserving of the Diana Award – a prestigious recognition of her work."
If you would like more information about this topic, please contact Rt Hon Andrew Mitchell MP at 020 7219 1799 or email at andrew.mitchell.mp@parliament.uk.