'You can take the Girl out of the Valley....' - Euryl Stevens Retrospective exhibition/Qube
7th March 2016
... Comments
---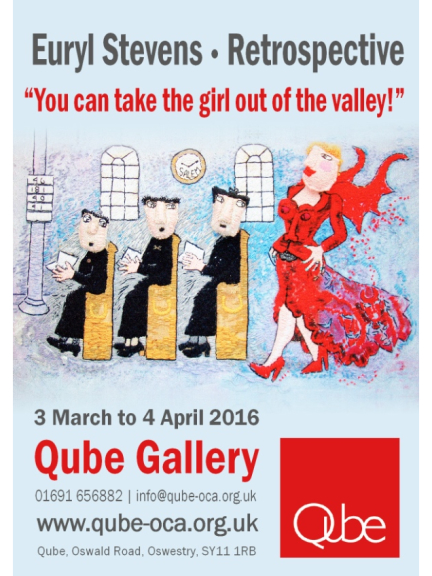 Step into a festival of colour and fun this spring at Qube as the gallery presents an exciting retrospective exhibition of works by Welsh Artist, Euryl Stevens. 
Euryl's work is full of colour and energy. She has created lively, sculptural characters in bold lines of stitchwork, richly decorated from a mixture of wool and paint. Her comical line-up of characters grin down from the gallery walls and each with a story to tell….the corset-clad ladies, a wedding riot, screaming babes-in-arms, the shiny night club goers in their suits!
Euryl shows us snap-shots of contemporary life over the last five decades, influenced by life in the Rhondda Valley. She said: "The work has a strong narrative that is an amusing social commentary on a life that I fondly recall as a child growing up in Cwm Clydach. It has a real energy that reflects the characters and captures the essence of people, particularly the people I remember back home."
Charlotte Jackson, Qube Arts Officer said it was refreshing see a collection of work with such bold honesty and humour. She said: "We wanted to bring something fun and different to Qube Gallery and were delighted when Euryl agreed to this exhibition. Her work stops you from taking life too seriously! Her characters are full of warmth and humour. They make you smile."
In the 1960's Euryl studied at Birmingham College of Art and then at the Royal Academy School where she was awarded a silver medal for landscape painting and a scholarship to study in Rome. She went on to teach at the former Shrewsbury College of Art and has been a vibrant supporter of arts organisations and festivals across Shropshire for many years.

Euryl Stevens will be giving a free talk of her work at Qube Gallery on Wednesday, March 16th at 7.00pm. To book a place please call Qube reception on 01691 656882 or email art@qube-oca.org.uk.
'You can take the Girl out of the Valley….' is on at Qube Gallery, Oswald Road, Oswestry from 3rd March to 4th April 2016.