Australian Exhibition 'The Big House' Comes to Oswestry This Summer.
Qube Gallery, Oswestry is set for the arrival of a new exhibition from Australia this August.
'The Big House' is an installation piece by Australian artists, Catherine Blamey and Kate Shone, both with family history in Shropshire.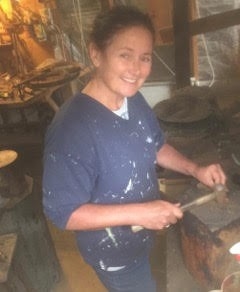 Kate Shone
Kate is sculptor and visual artist who addresses themes of materialism and consumerism by using discarded materials. Catherine is an artist and craft person, working primarily in stained glass, who is inspired by vintage crafts and traditional techniques.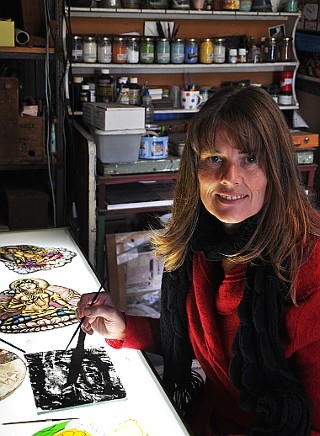 Catherine Blamey
This work of copper repousse and stained glass explores the topic of illegitimacy, the rights of servant women and the epigenetic trauma arising from the stigma of being illegitimate in Victorian England. The work on display will act as a memorial dedicated to all of the servant women of Shropshire at that time.
Inspiration for the exhibition came from the artists own family history and both artists will be staying in Shropshire throughout August to continue their local research. Kate intends to continue with her research of a family secret of illegitimacy, resulting from her great grandmother falling pregnant while working as a maid at the 'Big House', where she worked. Catherine is interested in locating another 'Big House', Oakley Grange, home of her great Uncle Edward Jones, Mayor of Shrewsbury in 1905. She also hopes to research the commemorative stained glass windows in the chapel at Llandrynmair.
Catherine said: "The pieces on display will question patriarchy and patriarchal symbols, contrasting with utensils of female servitude and survival, and the effect on following female generations."
Chief Officer at Qube, Laurel Roberts said: We are delighted to be welcoming Kate and Catherine to Qube this summer. Their work on the role of women compliments our recent research on local heroines and emphasises strength and bravery of women in times of struggle and inequality".
'The Big House' will be on display in Qube's alcove gallery throughout August. Artists Kate and Catherine will be on hand to discuss their work at the exhibition opening on Saturday 3rd August at 10am. This project has been supported by Regional Art Victoria.

Qube is open from Monday to Friday, 9am to 5pm and Saturdays, 9.30 to 12.30. For further information about this and other events, please call 01691 656882 or visit www.qube-oca.org.uk. 
---
Issued for & on behalf of Qube