Wreathed in smiles
6th December 2012
... Comments
---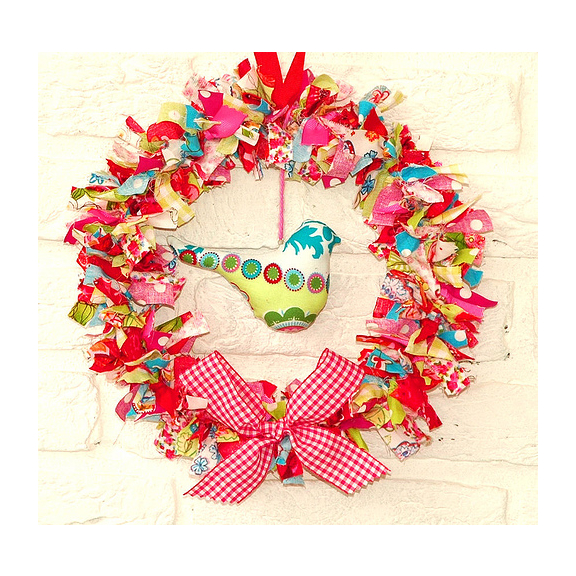 Yesterday signalled the start of the festive season in our household.  A steady stream of early cards have been ninja'd through the letterbox,  I sang my first badly remembered carol while walking the dog and then went into Oswestry for a festive evening.  First off was the new Design in Mind initiative from The Project Group, where we saw their in-house designed range of scarves, china and giftware based on the four elements, while gently munching on canapés and sipping wine.
While  husband swanned off to the Oswestry Chamber of Commerce Christmas do at Wilsons,  I trotted down the road to the Qube for a Christmas Upcycling Course with Jamilla.  Thoughtfully, another glass of wine was provided, along with a mince pie, which constituted my supper (who'se complaining) and a wander around their festive exhibition and craft sale – and some lovely, lovely things there too.
In the studio, about a dozen of us were ably instructed by Jamilla, who is lovely and extremely creative.  We had a go at making fabric wreaths from  coat hangers and material scraps, paper jewellery, and other thrifty upcycly things and my inner Blue Peter was released.  There were some truly fabulous wreaths being created, which would be the envy of Martha Stewart! While I adore all things pretty and especially all things pretty and upcycled/repurposed,  I never consider myself to be gifted in arty ways, but surprised myself with my effort, a gauzy thing of blues, turquoise, purple and pearl white, it reminded me of some of the kaftans Margo Leadbetter wore in "The Good Life" in its 70's styley.
So today was MAKING MINCEMEAT day.  Or rather quincemeat – quince and apple with chopped dried fruit, spices,  muscovado sugar and Madeira.  Hopefully it makes for a lighter mincemeat which will mature sweetly ready for Christmas Eve and the annual mincepie making  while listening to the Festival of Carols from Kings'.
And tomorrow is Oswestry Christmas Live! When we will all definitely Christmas is coming.