Weekend Fireside Supper
15th January 2013
... Comments
---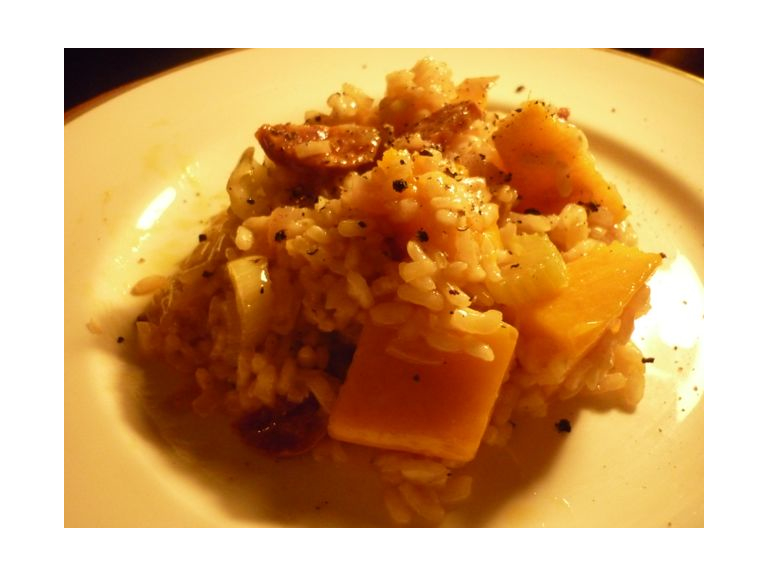 The snow may be snowin' and the wind probably blowin' this weekend, so hunker down with an easy but delicious supper.
Butternut squash is star vegetable in this flavourful  risotto (serves 2 – 3)
1 medium butternut squash
4 tbsp olive oil
2 cloves garlic, chopped
1 medium onion, chopped
200g risotto rice
1 medium glass dry white wine or vermouth.
850 ml vegetable stock
200g mild blue cheese, cubed
Halve and deseed a washed, medium butternut squash, and carefully cut into 1" width half rounds (makes it easier to peel), and once peeled, into 1" cubes.  Put in a roasting pan with 2 tablespoons of olive oil, scatter with some sea salt and black pepper and roast at 200c/gas mark 6 for about 20 minutes, or until the squash is beginning to colour.
While the squash cooks, finely chop a medium onion and a couple of garlic cloves and cook gently  in a large pan with some oil, until the onion is soft.  Stir in 200g risotto rice, and add a medium glass of dry white wine or vermouth.  Gently stir the rice while the liquid evaporates.  Add a ladle full of the stock and stir gently until most of the stock is absorbed. Continue adding the stock and stirring until the rice is tender, but still has a bit of bite.  Stir in a teaspoon of chopped sage or rosemary, let that infuse then add your cooked squash.  Taste and add further seasoning if you need it.  Take off the heat and gently fold in 225g of cubed mild blue cheese.  Serve in warmed bowls.
If you don't fancy standing over a pot – try this.  Heat the oven to 140c and chuck any number of sausages  in any flavour you like, into a large roasting pan.  Cook for 20 minutes,  until the sausages are just beginning to colour and chuck in the butternut squash cubes, a red onion sliced and either a small handful of sage leaves, or rosemary.  Mix everything well and slap it back into the oven for another 20 minutes.  By that time the sausages should be sizzling gently and the squash should be cooked with a lovely caramel edge.   Eat and enjoy!
Radfords Fine Foods and Gillhams Delicatessen both stock a variety of blue cheeses.