People's Film Collective Launches in Oswestry
24th April 2013
... Comments
---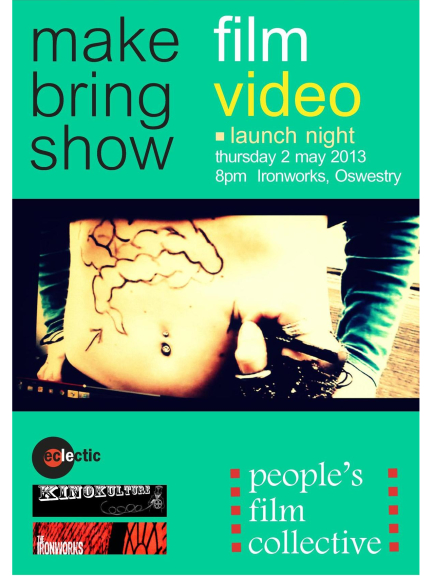 Local and international flavour for launch of amateur film forum

Creatives in the Marches will find plenty of inspiration at the forthcoming launch of the People's Film Collective (PFC), a new screening forum where amateur film and video makers can bring and show their work.

Hosted by the Ironworks music/arts venue in Oswestry, PFC kicks off on May 2 at 8pm with an eclectic screening of home-grown films captured on everything from mobile phone to cine camera.

Film makers are invited to turn up with their latest moving image creations, on tape, reel, DVD or USB stick, and experience them on a big screen with a real audience. There will be provision to stream content live from YouTube or Vimeo as well.

The launch will also include a special showcase of winning 'minute and a half' films from the DepicT! 2012 international film competition run by Bristol Watershed.

Ruth Carter of PFC co-organisers, Kinokulture, said: "PFC is an exciting opportunity for the area's growing community of film makers, experienced or otherwise, to meet and share their work in an informal way. The DepicT! screening will also give a flavour of amateur film output from other parts of the world and the trend for super short compositions being driven by social media such as Vine."

Kinokulture will have details on the 2013 DepicT! competition which offers a range of prizes and industry exposure as part of Bristol's Encounters Short film and Animation Festival.

PFC is open to film makers from all backgrounds and areas of interest, whether it's abstract film, animation, drama, documentary, local interest, music video, comedy or other subject. It is free to attend and also welcomes those simply interested in seeing alternative and original film.

More details and updates are available on the website (www.thepfc.org.uk ) and Facebook (search for Peoples Film Collective PFC).

Anyone with a technical query can contact the organisers on 01691 652918 or 0845 2500517.