Oswestry Apple Day preparations in full swing
7th October 2013
... Comments
---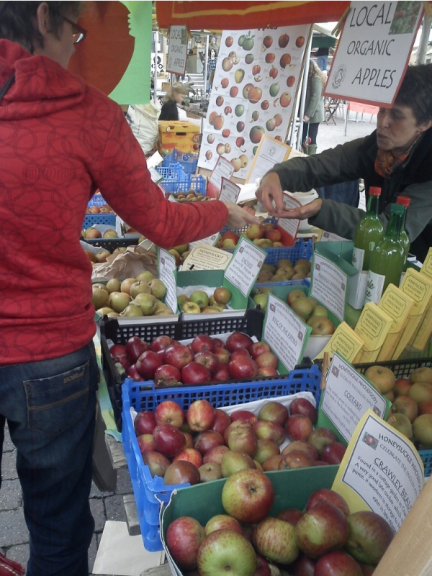 An apple a day may keep the doctor away but Oswestry is hoping this gem of the English orchard will draw the crowds on October 19 for the town's second official Apple Day.

Celebrating not just apples, the event will also showcase some of the wonderful edible produce being lovingly raised in local gardens, allotments and orchards around the Oswestry borderlands.

Apple Day and Home-Grown Oswestry takes place from 10am to 4pm on the Bailey Head and is being organised by Oswestry Town Market, the Cambrian Railway Orchard Project (CROP) and high street shoppers' group, OSCO.

Co-organiser CROP will be revealing the latest on its progress to establish a community orchard alongside the Cambrian Railway. Apple specialist and expert orchardist, Tom Adams, will also be on hand to give tips and advice on apple and fruit tree cultivation.

Community growing initiative, Incredible Edible, will be creating a mini garden and highlighting its very successful programme of planting projects in and around Oswestry.

The green-fingered volunteers will also be collecting donations of surplus apples to help towards the pressing of Oswestry's very own bottled apple juice based at Treflach Farm. Apple day visitors will be able to sample and buy some of the first units off the production line, with proceeds going towards future Incredible Edible initiatives.

Wholefood specialist, Honeysuckle, which marks its 35th anniversary this year, is set to bring some 20 different apple varieties as the orchard season reaches its peak.

More horticultural talent will be on display on the stalls of Derwen College and Helen Cooksley of The Orchard in Babbinswood, specialists in home-grown fruit and vegetables.

In addition to a vibrant array of fresh produce, there will be wonderful apple-infused aromas to savour from a live cooking demonstration by Walford and North Shropshire College and street food available from Twist and Snout.

The Dog House Bakery is cooking up a special apple and carob dog biscuit for the event alongside a range of wholesome, herbal goodies for our canine companions. Radfords Fine Foods will be offering tastings of local cheeses and apples together with a large selection of special apple flavoured sausages, pies and scones.

Returning for a second year, Oswestry Country Market will have a delicious array of creative pastries, cakes and bakes using apples. And watch out for apple specials on the menus of hostelries around the town including Milano's, the Queen Ann Coffee Lounge and Radio café.

Other attractions include a children's corner with face-painting and apple art competition. DJs from record enthusiasts group, People's Vinyl Collective, will be playing music throughout the day.

And there's still time for other shops, cafes and town businesses to get involved by laying on apple-related food, goods or simply a window display, say the organisers.

Giuliana Beccui of CROP said: "We are encouraging shops and businesses to join in the community spirit of apple day and get creative with apples, even if only in a small way by displaying one of our apple banners, bunting or flags."

The day concludes with a free evening of live music from 6pm to 8pm on the Bailey Head, organised by Neil Phillips of Eclectic with the cooperation of Oswestry Town Council.

Linked events

In a co-promotion with Oswestry Makes!, a new crafts festival running October 12 to 19, Apple Day will see linked events around the town.

Arts group, InsideOut, will be leading a range of creative activities throughout the day at Oswestry Library which is also staging an exhibition of apple themed textile art during October.

The Willow Gallery will be hosting an Apple Day fabric extravaganza workshop from 11am to 1pm (cost £6) where all ages can learn techniques and create apples in 3d felt and fabric.

The Gates giftshop is offering free make and sew sessions, at 11am to noon and 2pm to 3pm, where you can create your own felt apple decorations (but please book on 01691 680203). Booka Bookshop will have an apple themed storytime for children starting at 11am, also free.