Old Oswestry Hillfort Campaign delivers Petition
22nd August 2013
... Comments
---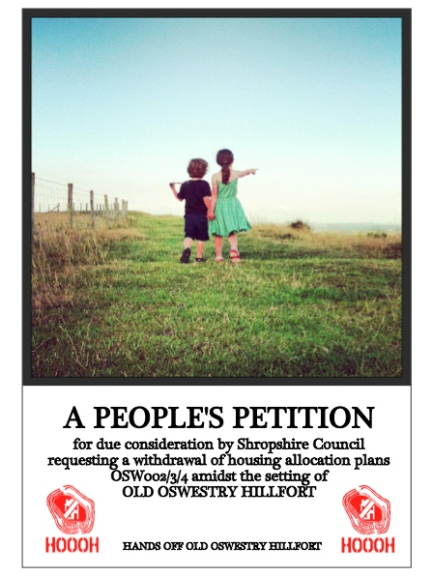 On Friday, 23rd August 2013 at 3pm, the Hands Off Old Oswestry Hillfort campaign will present "A People's Petition" to Malcolm Price, Shropshire Council's Cabinet member responsible for planning at Shirehall. The petition objects to the proposals for three housing allocations amidst the setting of the hillfort.
Since the campaign began on 1st August, the organisers have been over-whelmed with support from across Oswestry and the county, as well as nationally and internationally with people from over 20 countries such as the United States, South Africa and Egypt declaring their firm objections to these proposals. Thus far, the online petition combined with signatures collected around Oswestry town centre is rapidly reaching 5000 signatures.
Adding their voice to the campaign, The British Archaeological Trust known as RESCUE, have submitted their own detailed objections to the council stating clearly that "The Heritage Impact Assessment is inadequate" and "...is not NPPF-(National Planning Policy Framework) compliant". RESCUE continue to say, "We believe the development proposed for areas OSW002, 003 and 004 will have an unacceptably negative impact on the Old Oswestry hillfort, a statutorily protected Scheduled Ancient Monument."
The Ramblers too have voiced their strong opposition to the proposals stating, "The Ramblers in Shropshire are appalled at the suggestion that houses should be built on land close to and forming part of Oswestry Old Hill Fort. This is a historical site of international importance and the idea that it should be encroached on by building development beggars belief. There are many other sites in the Oswestry area that can provide suitable land for development without touching this treasure. The Ramblers fully support your campaign to have the idea revoked."
The Hands Off Old Oswestry Hillfort campaign also believe that the consultation on these proposals has been seriously flawed and fails to meet the council's own standards for community involvement in planning.
For more information on the campaign, you can visit: www.facebook.com/oldoswestryhillfort or on Twitter via @OldOswestryFort.