Local charity to attend Armistice Centenary event at Westminster Abbey
Representatives from Oswestry charity, Qube has been invited to Westminster Abbey by the Department for Digital, Culture, Media and Sport for the Armistice Centenary Service.
The service, which is to be broadcast live on BBC1, will commemorate the armistice signed between the Allies and Germany at Compiègne, France. This historic event took effect on the eleventh hour of the eleventh day of the eleventh month in 1918, ending hostilities on the Western Front in World War One.
Qube was nominated to attend the service by the Heritage Lottery Fund in recognition of work carried out as part of the Men on the Gates project which researched the lives of the fallen soldiers listed on the Oswestry War Memorial Gates at Cae Glas Park.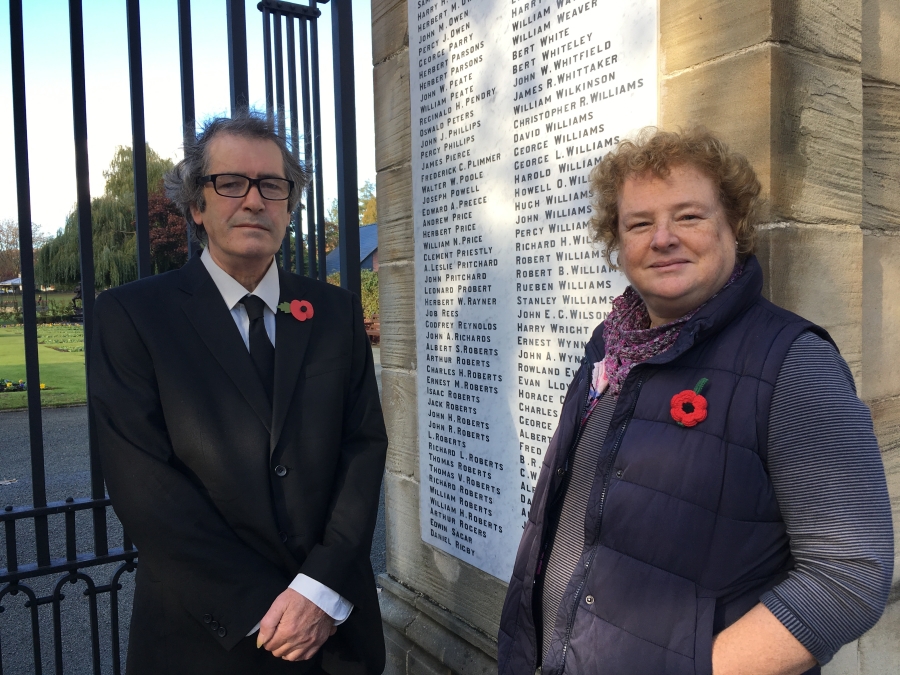 John Davies, Men on the Gates (Lead Researcher) and Laurel Roberts, Qube CEO
Qube CEO, Laurel Roberts said;
"We are extremely proud to have had such high recognition for the Men on the Gates project. The funding from the Heritage Lottery Fund has enabled us to uncover the human stories behind the names engraved on the Memorial. Future generations will be able to have an understanding the sacrifices made by local people."  
The research for Men on the Gates was carried out by many volunteers from local history groups and organisations, including Oswestry Town Museum, the Cambrian Heritage Railway, Oswestry Family History Society and local groups in Llanymynech, Trefonen and Gobowen. Volunteers sourced information from the internet, through archive records, from local churches and by speaking directly to relatives.
Project Coordinator, John Davies said:
"It has been fascinating, humbling and a privilege to work on this project. We've discovered some extraordinary stories about the men and have been able to inform the Commonwealth War Graves Commission about the identities of four men who were not registered. The men came from many different walks of life; they were relatives, school chums, neighbours, work colleagues and members of the same church. It has given us a real appreciation of the devastating effect these loses must have had on the town."
To find out more about the lives and stories of those from the First World War commemorated on Oswestry War Memorial Gates, visit www.menonthegates.org.uk.
The service to mark the centenary of the Armistice at Westminster Abbey will be broadcast live on BBC1 at 6:00pm on Sunday, 11th November.
---
All content and images provided courtesy of Qube Arts;
Qube, Oswestry Community Action
Oswald Rd, Oswestry SY11 1RB.
Web:  www.qube-oca.org.uk 
Twitter: @qubeoca
Facebook at Qube Arts
Reg Charity 1063319 Inc Company 3390138
---