A VALENTINE KISS
8th February 2013
... Comments
---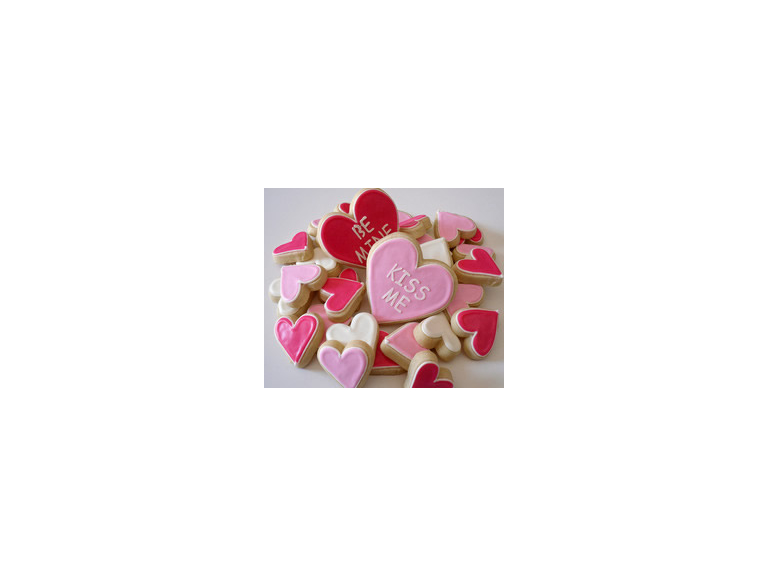 If you are planning to cook a Valentine dinner for your darling this year, just remember one thing and all will be well -

KISS - or Keep It Simple Sweetheart!

Take a lead from the French - who know about these things - and buy a decent bottle of red wine and cook one course only.  The ingredients for the recipes below are all available fromindependend Oswestry shops  Gillhams Delicatessen and Radfords Fine Foods, Honeysuckles,  Oswestry Market and our wonderful local butchers .
While your beloved relaxes  in the bath with a glass of softly fizzing prosecco  you can enjoy a glass yourself while gently pootling around the kitchen. Go for a dish that needs one or two pans at the most, because who wants to wash up tonight?  

Chicken breasts wrapped in Parma ham, pan fried or oven roasted, served with sauté potato and wilted spinach is simple to cook and impressively delicious.

Smoked salmon, flaked into crème fraîche with finely chopped chives and then folded through fettuccine or tagliatelle is a dreamy and delicate dish.

Butternut squash tagine takes a tad more time to prepare, but uses only one dish and smells and tastes divine, with just enough spice and sweetness to tingle the lips.

All three dishes will go with a glass of red wine - preferably an Italian or Spanish wine - so that the flavours don't compete or overpower your master creation.

A simply set table, sparkling glass and discrete lighting is far more effective than one overcrowded with candles, side dishes and unnecessary cutlery. The aim is for both you to be relaxed and enjoying the evening.

When you've chatted, laughed and eaten, whisk the plates into the kitchen and your beloved into the lounge with a box of reassuringly expensive chocolates, the rest of the wine and your favourite music or movie and snuggle up.
OR most simple of all –  make up a tray of morsels of Patchwork Pate, bowls of olives, slices of Parma ham, some delicious little cheeses and good bread or biscuits and have a romantic picnic in front of the fire....

Happy Valentine's!