Banging the Drum for the Great British Sausage
4th November 2009
... Comments
---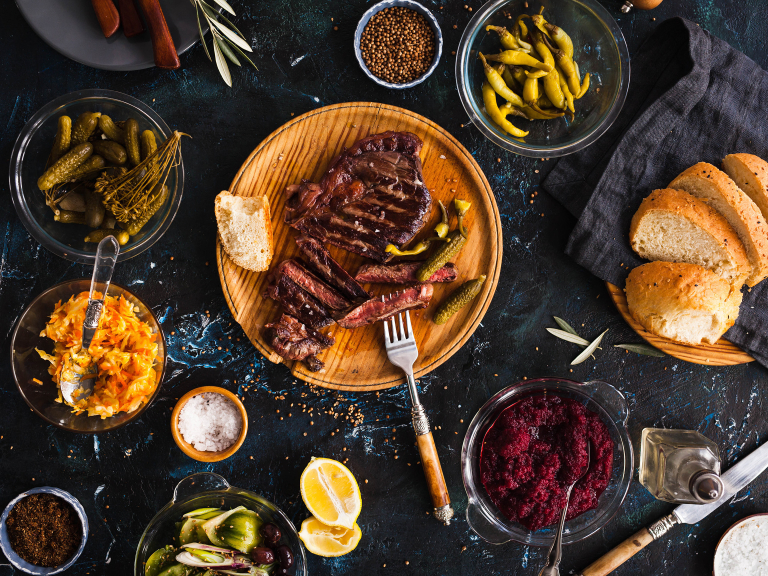 The British Sausage week is here!  Up and down the country the humble and not so humble sausage is being bought, tasted and celebrated, from the standard traditional pork banger to the exotic Chilli Chipolata.
So today saw me, triple layered, bobble hatted and scarved wandering down Bailey Street balancing a huge salver of freshly cooked sausages to tempt folk up to the market, and more specifically to Hartshorn's butchers. Within 15 minutes the lovely plump chipolatas in three flavours, Pork, Celery and Walnut (my favourite), Pork , Cranberry and Walnut and "The Bernard" a pork, prune and walnut beauty, had vanished leaving only a waft of sausagy scent and appreciative munching noises from the tasters.

Now it wasn't purely love of the Oswestry market or altruism that had me out on the street, there was a deep ulterior motive - pure selfishness.  For years, I have been trying to source a sausage that reminded me of the Christmas Stuffing my mum used to make and I realised that the only way to get that sausage was to persuade a butcher to make it.  So I stalked my local butcher, and in doing so, found that he was being stalked by others to make their favourite sausage.

I also realised that for many families the days of being up at midnight to stuff and cook the turkey for the Christmas dinner is long gone, families are smaller, cooking a gargantuan meal is a chore, when you can buy a ready stuffed, boned, pop it in the oven 'convenience' roast courtesy of the local supermarkets and yet here was a way to maybe have the best of all worlds - chipolatas in flavours that combined the smells and tastes we associate with the festive season, which were a doddle to cook and tasty to eat, and made and sold locally.

The result? The butcher was flash mobbed, the sausages were a huge success - two visitors to the town were so impressed, but not knowing where the butcher was apparently tracked their way to him by following my bobble hat through the crowd and bought up the last of the stock.
He was happy, I was happy that he was happy but inwardly I was unrequited - no dreamed of sausage left for me.