Norfolk & Norwich Festival Launch 2013
12th May 2013
... Comments
---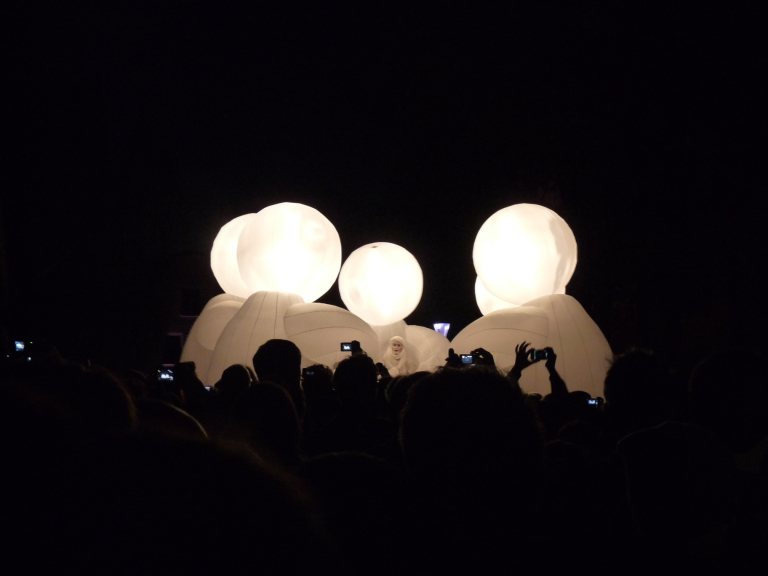 I always eagerly await the launch night of the Norfolk and Norwich Festival.  The streets come alive as the citizens of Norwich converge on the city centre to enjoy something unusual, different and always spectacular.
The 2012 Festival launch saw the city invaded by dinosaurs, parting the crowd which looked on in wonder.
This year's launch took place on Friday 10th and Saturday 11th May in the stunning surroundings of the Cathedral Close, Norwich.
With the backdrop of the Cathedral, the stunning performance by Compagnie des Quidams of Reve D'Herbert transported everyone into a magical wonderland. 
Compagnie des Quidams is a French theatre company that was founded in 1994 and is based in France.
The performance began with these other-worldly figures making their way from the Cathedral entrance and seemed to float amongst the audience, who became part of the performance too.
Suddenly these figures started to expand and grow and then finally light up from within. The result gave a beautiful glow across the close and the audience, who were by now so enraptured by these beings that everyone just wanted to get as close as possible.
The second part of the performance had these beings move in sequence to music, while releasing an even larger ball of light into the sky above the close, bathing the area in a beautiful glow.
I didn't want it to end, as I'm sure most of the audience didn't too.  It was relaxing, magical and stunning. 
A great start to the 2013 Festival, creating an amazing atmosphere as always.  I'm looking forward to much more.