Norfolk & Norwich Festival 2013 - 'Fragile'
28th May 2013
... Comments
---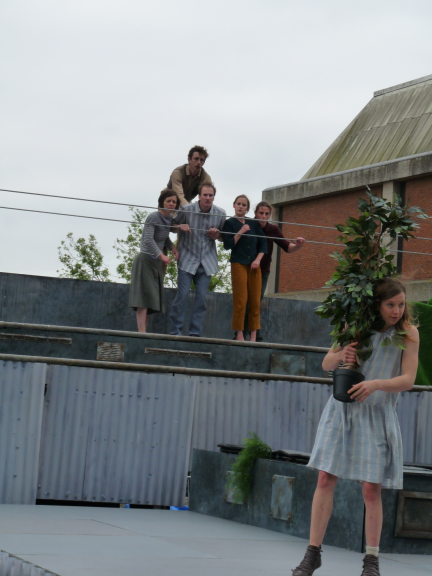 When you can wander along and see a stage being built and then rehearsals for a coming performance, it gives a tantalising glimpse on what is to come.  People were tweeting photos of the build up and excitement building, as 'Fragile' was one of the most anticipated free events in the Norfolk and Norfolk Festival programme this year.
Being run on Saturday 18 and Sunday 19 May, I had to wait for the Sunday afternoon performance - well, I had a busy schedule!  I kept looking at the weather and keeping my fingers crossed that downpour wouldn't stop us in our tracks.
It was certainly worth the wait.  We made sure we got to Millennium Plain, outside The Forum early this time to gain a seat and a good vantage point.
Fragile, by Tilted Productions, was a breathtaking visual treat of theatre, comedy, acrobatics, tightrope walking, all played out between neighbours on a rooftop garden.
A new couple moved into one of the apartments and immediately became amused and gradually obsessed with the funny 'bouncy' floor they found just beneath their garden.  This brilliant use of a trampoline through the performance provided comedy, drama, slapstick and intrigue.
As the other tenants became involved the ownership of the plants became increasingly as important as their own relationships, which resulted in a just spectacular 'chase' for the plants across the tightrope and over and under the trampoline.  The skills and balance involved was something to behold.
And who was triumphant?  In a brilliant twist...the plants took charge and became the new tenants.
I am sure I could read much more sub-text into this amazing performance, but I shall just leave it with one word - amazing.