CHALK HILL BREWERY EXPECT DRINKERS TO BE KEEN ON NEW MUSTARD ALE
23rd May 2016
... Comments
---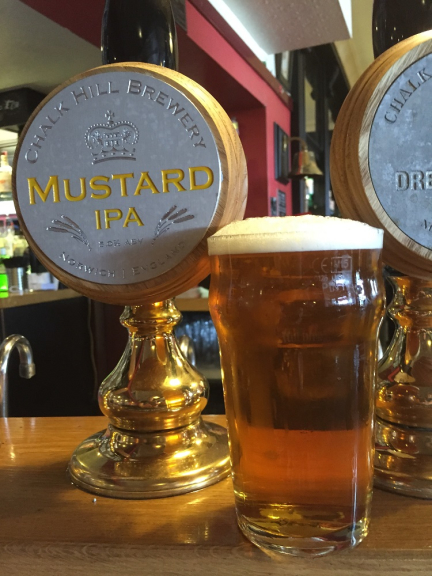 Chalk Hill Brewery is located at the Coach & Horses in Norwich's Thorpe Road and was founded by owners David Blake, Bill Thomas and Tiny Little in 1993, making it Norwich's longest established brewery.
Mustard Ale is a delicious and refreshing hoppy summer ale with a 5% ABV and is the first new brew from Chalk Hill to be created by new head brewer, Robbie Wincup, a keen home brewer who was appointed to his new role after learning the craft in his spare time from the previous head brewer.
"A lot of our customers wanted a more hoppy beer and I had in my mind exactly the kind of beer I wanted to create and, after trialling a number of recipes, I have ended up with a beer that's exactly how I wanted it. I am very excited to be launching it."
Chalk Hill Brewery's managing director, David Blake, said: "It's great to be introducing a new summer ale to our customers and I am certain that it's going to become a firm summer favourite with drinkers. As well as being available in the Coach & Horses, we are working hard to expand the number of outlets throughout the free trade in Norwich and Norfolk where Mustard Ale, and our other award winning brews, are available."
Mustard Ale is joining the rest of the range of Chalk Hill brews:
Tap, ABV 3.6%. A pleasant session bitter. A gentle blend of hoppy bitterness leads to a light refreshing finish.
CHB, ABV 4.2%. Solid malty aroma gives this copper coloured beer a good start. The well matched fruity sweetness complements the malty base.
Dreadnought, ABV 4.9%. A traditional, robust strong ale. The fruity overtones are counter-balanced by a mellow richness.
Flintnappers Mild, ABV 5%. Brewed in winter, a roasted barley flavour dominates throughout, but there is a surprisingly bitter edge and a defined vinous quality.
Old Tackle, ABV 5.6%. An 'Ovaltiney' taste and flowery aroma. A reddish brown beer that needs to be savoured slowly.
Gold, ABV 4.3%. A malty, straw coloured ale, refreshing and easy drinking.
Chalk Hill Brewery is at the Coach & Horses at 82 Thorpe Road, Norwich, http://www.thecoachthorperoad.co.uk.